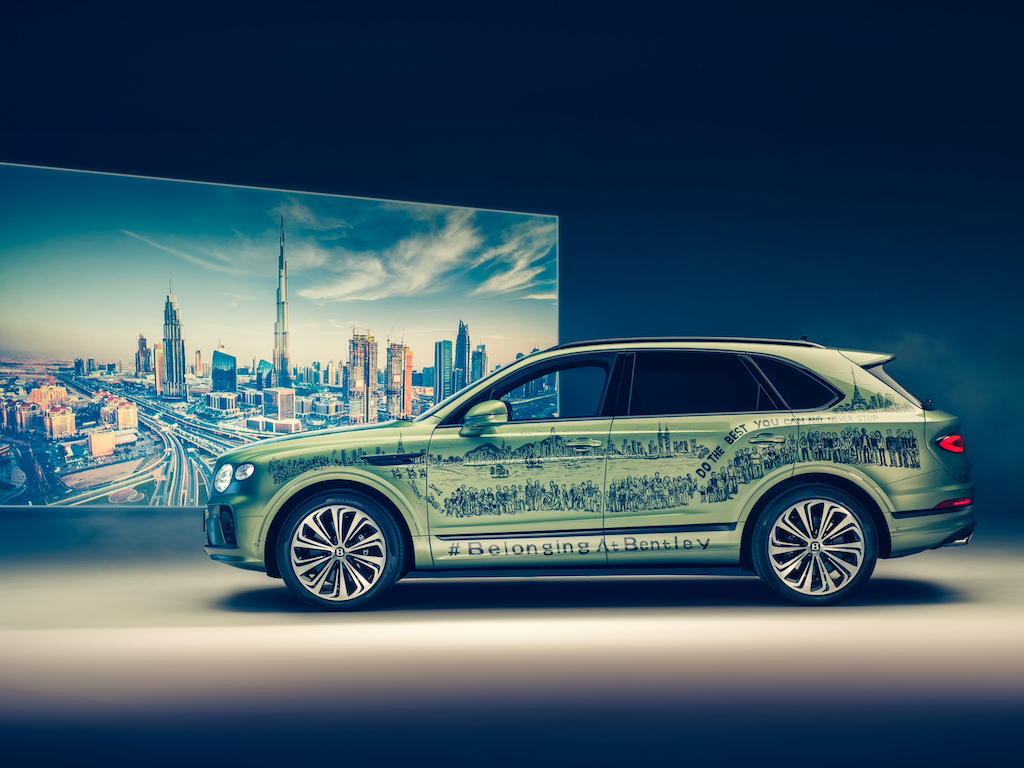 BENTLEY UNVEILS THE 'BELONGING BENTAYGA' PAINTED BY STEPHEN WILTSHIRE CELEBRATING INCLUSION
Read Time:
2 Minute, 55 Second
As the next step in its mission to become the most diverse luxury car manufacturer in the world, Bentley Motors today launches the 'Belonging Bentayga'. This unique hand painted Alpine Green Bentayga Hybrid features different skylines and well-known buildings from all across the world such as New York, London, Paris, Rome, Milan, Venice, Tokyo and Hong Kong – each side of the car representing a different continent. The art piece that displays 29 different landmarks is drawn from memory by Stephen Wiltshire MBE, a British architectural artist and autistic savant, who is known for his ability to draw a landscape after seeing it just once.
This is the first time a Bentley has been hand-painted in this way at the factory in Crewe, developed with a unique process from the Bentley Excellence Centre Bespoke Paint team.
The design also includes many drawings of people, nationalities of the world united in one design. The Bentley Bentayga is the third such piece of art unveiled by the company to mark its commitment to diversity.
"We're delighted that Stephen has agreed to collaborate with us to create the 'Belonging Bentayga'," said Wayne Bruce, Chief Communications and D&I Officer. "This remarkable car celebrates Bentley craftsmanship and Stephen's unique artistic genius. It's also a key element in our Beyond100 strategy, which includes our industry-leading, five-step diversity and inclusion plan."
He added: "We're very proud to be able to say that Bentley's workforce is made up of people from 52 different nationalities and our diverse team handcrafts and sells our luxury cars in 67 countries from retailers in all the key cities of the world. The message that the unique and striking imagery of the Belonging Bentayga sends is that that no matter where you live, you belong. Our culture of supporting everyone to be able to achieve their highest potential mirrors Stephen's ethos of do the best you can and never stop."
Stephen Wiltshire comments: "Buildings have a way of telling a story, where you were born, your first job, the first church you got married, happy memories mean happy people. I have been on many travels throughout my career and what stands out for me the most are the buildings, their architecture and the people. I believe Bentley and the Belonging Bentayga relate in the same way, bringing people together, creating a journey, creating memories. My art has always been about existing and connecting. The Belonging Bentayga was a great challenge for me but I like to be challenged as it tests my ability, and it also proves that if you put your heart and soul into it, you can overcome anything. I am very proud of the finished car which in my humble opinion looks amazing!"
Stephen Wiltshire was born in London to West Indian parents. As a child he was mute and, aged three, was diagnosed with autism. However, his family and teachers soon realised that rather than using words, Stephen communicated through the language of drawing. He started with animals before graduating to buses and finally buildings. His sketches, detailed cityscapes which feature a subtle wit, have earnt him plaudits from around the world.
In 2021, having recognised the fundamental importance of diverse experiences and perspectives, Bentley Motors set out a five-step strategy focusing on outreach, recruitment, succession, planning, culture and development to enhance diversity and inclusion at the brand's Crewe-based dream factory.