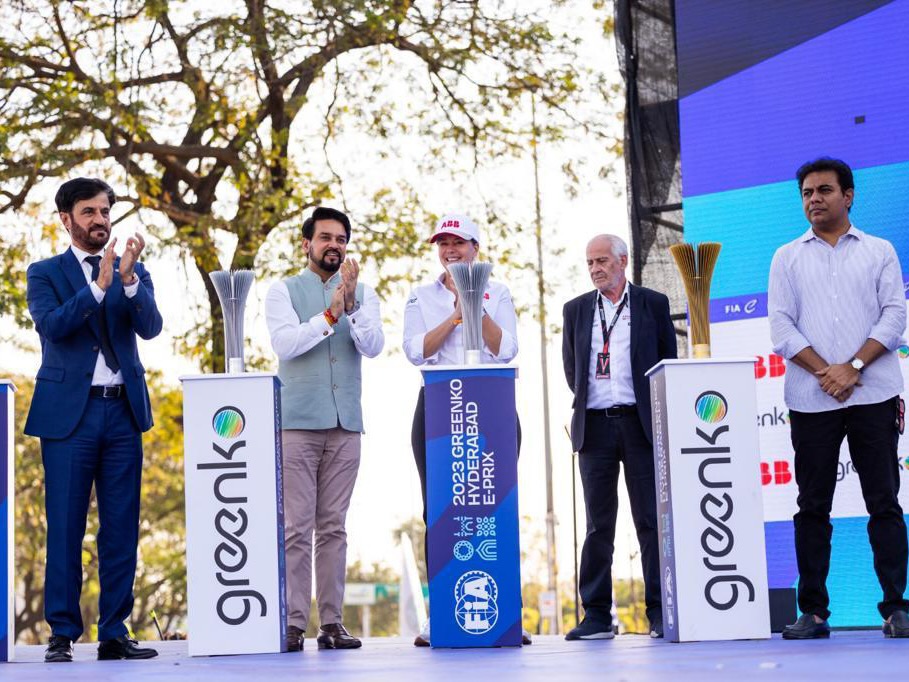 FIA President Mohammed Ben Sulayem visits India's first Formula E race in Hyderabad
Read Time:
6 Minute, 22 Second
The President of the Fédération Internationale de l'Automobile (FIA), Mohammed Ben Sulayem, attended the first ever Formula E race for electric, open-wheel race cars in India this weekend in Hyderabad, meeting with government ministers to discuss a wide range of issues including sustainability, diversity & inclusion and the development of grass roots motorsport.
Formula E is the pinnacle of electric racing, with performance, efficiency and sustainability its key goals. Entering its ninth season, Formula E has launched its third generation car for teams that include entries from manufacturers Nissan, Jaguar, Mahindra, DS Automobiles, NIO 333, Porsche and Maserati as the world's first net-zero carbon race car in the world's first net-zero carbon sport.
With the 2022/23 calendar including four new venues comprising Cape Town, Sao Paolo, Portland and Hyderabad to boost the championship to 16 races, Ben Sulayem welcomed India's return to FIA world championship racing for the first time since the Indian Formula One Grand Prix in 2013.
"It's a genuine pleasure to attend the inaugural Hyderabad E-Prix. The arrival of Formula E in India marks another significant milestone for racing enthusiasts in the country, with the street circuit becoming the 30th location to host a Formula E race," Ben Sulayem said.
Among those on hand to see Formula E for the first time was Anurag Singh Thakur, Minister of Youth Affairs and Sports. An avid sports lover who has served as President of the Board of Control for Cricket in India (BCCI), the Himachal Pradesh Cricket Association (HPCA), the Himachal Pradesh Olympic Association (HPOA), the Hockey Himachal, the Himachal Pradesh Table Tennis Association and as Associate Vice President of Hockey India, Anurag Singh Thakur now adds motor racing to his sporting interests after watching the net-zero carbon series race along the banks of the picturesque Hussain Sagar Lake for the first time.
India is on a growth path for motorsport at a regional level as the Federation of Motorsport Sports Club of India (FMSCI) works to strengthen national championships through the development of entry-level categories and entice more manufacturers to commit to Indian motor racing.
"The President of the Federation of Motor Sports Clubs of India and the President of the FIA Karting Commission, Akbar Ebrahim and I give a huge thanks to the brilliant Marshalls and volunteers for the work they continue to do every weekend and for the way they delivered an amazing inaugural Hyderabad Formula E race," Ben Sulayem said.
"India has a population of 1.3  billion people, yet less than 8000 race licence holders, so we have to listen to people here and empower the FMSCI because who knows India better than the Indians themselves? The FMSCI and the local clubs know best which is why we listen to them and in my election manifesto, we invested over 2,000 hours listening to clubs like these."
The FMSCI has received support from the FIA Sport Grant Programme, including a grant in 2021 to support its "Attracting more people to Karting" initiative through track upgrades.
FMSCI president Akbar Ebrahim was elected last year as the chief of the FIA's International Karting Commission, placing India back on the World Motor Sport Council.
"The first thing I did when I became President, I appointed India back on the World Motor Sport Council with Akbar Ebrahim as the chief of the Karting Commission, which is the highest table. If we want to grow motorsport and mobility, we have to reach all markets and I am convinced that we'll find the right path with Akbar because India now has the power and the top people."
By playing a key role in the FIA Rally Star programme, organising national selection activities and the FIA Rally Star Asia-Pacific Final held in Chennai, last October, the FMSCI hopes to introduce affordable Cross Cars and establish academies to train young drivers. From this, it plans to  create new championships as a way to give youngsters a ladder from grassroots to the top of the Rally pyramid.
"India and China both have the manufacturers and both have the numbers, so we have not scratched the surface yet. We are talking about 2.8 billion people in these two countries that account for over 35 percent of the world's population."
Meeting with the Minister for Environment, Forest and Climate Change, Shri Bhupender Yadav, who has asserted that India is committed to reducing emissions intensity of its GDP by 45 per cent by 2030 and subsequently reach net-zero by 2070, Ben Sulayem added that including Formula E in its calendar sends a strong message that India is committed to a sustainable and cleaner future while accepting that mobility remains a critical enabler of social, economic and environmental welfare.
The Formula E World Championship has introduced its third generation car that dramatically increases power and efficiency as it continues to innovate technologies that flow through to electric road cars.
Where the first generation race cars required two cars per driver to complete the race, the second gen cars debuting in Season Five doubled the range, meaning just one car was needed for a typical race. The latest generation launched for this 2022/23 season enjoys a power increase from 300kW to 350kW which is now delivered to all four wheels and is charged at a faster rate.
E-Prixs are held in city centres on public roads to encourage the adoption of electric vehicles and Formula E is leading the FIA's motorsport charge to advanced sustainable technologies.
Three of the FIA's championships are now powered by sustainable technologies with full EV racing for Formula E and World RX rally cross, while hybrid powertrains cover the World Rally Championship and Formula 1 which will use 100 percent sustainable fuels from 2026. All FIA Championships will switch to sustainable energies by 2030.
On hand to witness the action in Hyderabad was cricketing legend Sachin Tendulkar and star players Shikhar Dhawan and Deepak Charhar. Tendulkar was taken for hot laps in the 1900bhp Mahindra-owned Pininfarina Battista EV supercar by Mahindra Racing Formula E team reserve driver Jehan Daruvala.
"A wonderful achievement by Anand Mahindra and his team. It's heartening to see Indian companies back cutting-edge, world class automobiles. The Pininfarina Battista was so fast, we defied time and landed in the future,"Tendulkar said as he stepped from the car.
"Formula E in Hyderabad is a sight to behold for a motorsport enthusiast like me. I had a wonderful time cheering for Mahindra Racing and was glad to see motorsport returning to India after a decade," the cricketing great added.
Shikhar Dhawan also experienced a hot lap of the track in the Porsche Taycan Safety Car, accelerating from 0 to 100kph in 2.8 seconds and reaching a top speed of 260kph while Deepak Charha said he was thrilled to be part of the historic event.
"This was my first time attending a Formula E race and I was thrilled to be here. I have an affinity for fast cars and seeing these third gen cars racing on the street track was really exciting. The fact that this is the first sport certified as net zero carbon makes it even more appealing," the left-handed batsman said.
"With the way electric vehicles are becoming more popular, I think it's a guilt-free and innovative version of the sport that will resonate with the audience and pave the way for the future. It's fascinating to witness such speeds at close quarters," he added.