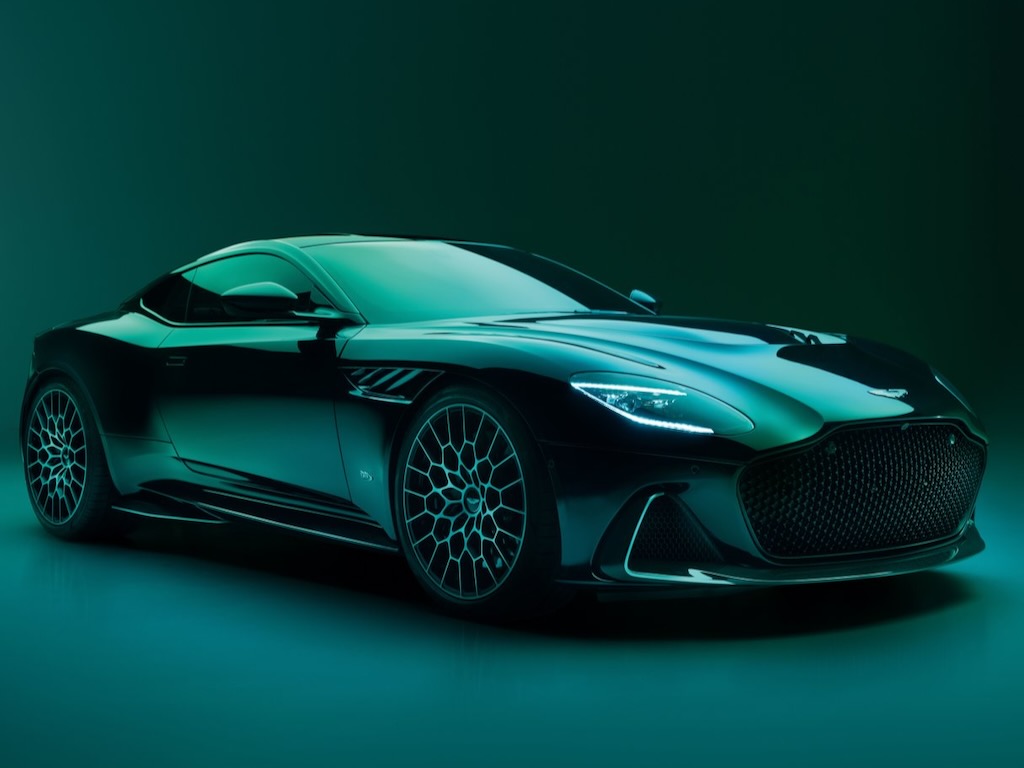 Introducing the Ultimate DBS 770: A Powerful Goodbye to Aston Martin's Super GT Crown Jewel
Read Time:
6 Minute, 17 Second
Long associated with cars of exquisite style and intoxicating performance, the DBS nameplate has been attached to some of Aston Martin's finest flagships. Since 2018 the DBS has stood at the pinnacle of Aston Martin's series production range; a Twin-Turbo V12 powerhouse blessed with ferocious performance and unmatched style. With production of this current generation DBS nearing its end, Aston Martin is proud to introduce a DBS to surpass all others; the DBS 770 Ultimate.
As its name suggests, the DBS 770 Ultimate is an emphatic last word. The most powerful production Aston Martin ever, and the fastest and most powerful DBS to date, extensive design and engineering enhancements ensure the DBS 770 Ultimate is an unforgettable and highly-collectible celebration of Aston Martin's flagship Super GT. Available in both Coupe and Volante form, DBS770 Ultimate will be built in strictly limited numbers – 300 Coupes and 199 Volantes – with all examples sold ahead of release.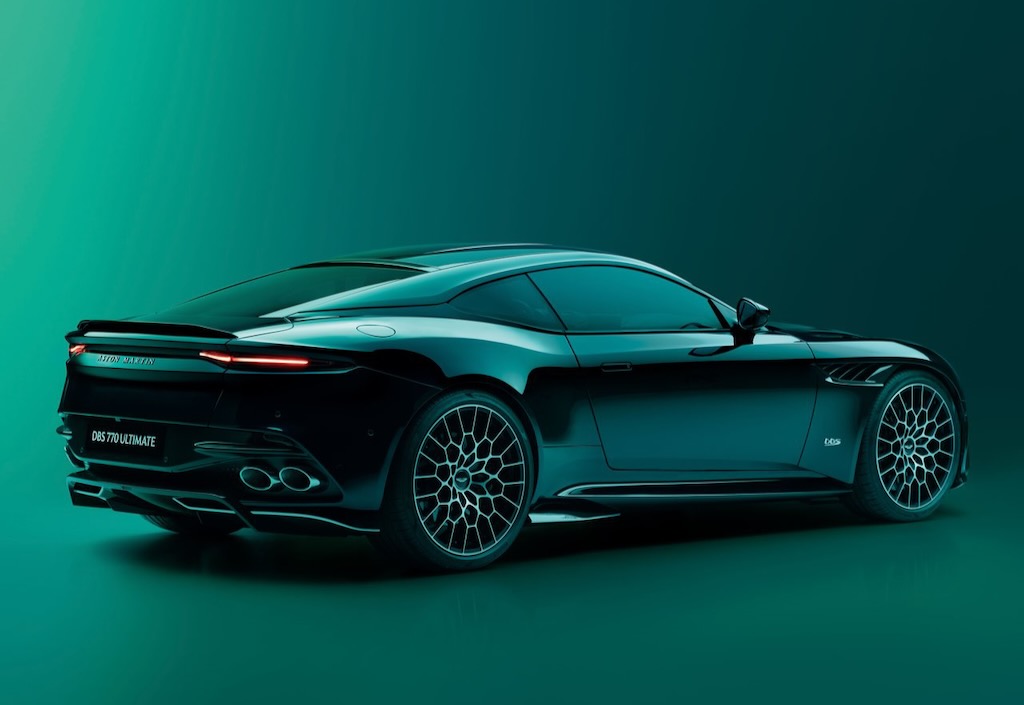 DBS 770 Ultimate features a ferocious iteration of Aston Martin's quad-cam 60-deg 5.2-litre V12 engine. Now developing 770PS at 6500rpm and a colossal 900Nm of torque from just 1800rpm to 5000rpm, propelling DBS 770 Ultimate to a top speed of 211mph, this magnificent engine benefits from modified air and ignition pathways together with a 7% increase in maximum turbo boost pressure. Precise tuning of power and torque curves gives the driver a sense of boundless performance, with an intoxicating blend of exceptional response, outstanding in-gear acceleration and the authentic V12 soundtrack.
Power is fed through a ZF 8-speed automatic transmission and mechanical Limited-Slip Differential (LSD) mounted at the rear of the car. In addition, DBS 770 Ultimate receives a unique transmission calibration to enhance shift speeds and driver interaction, contributing to a truly connected driving experience. Such is the inherent capability of Aston Martin's Carbon Ceramic Braking (CCB) system that the DBS 770 Ultimate uses the same 410mm x 38mm front discs and 360mm x 32mm rear as fitted to the DBS.
To further improve the direct nature of the steering response and increase the level of detailed feedback, DBS 770 Ultimate introduces a new solid mounted steering column, allowing the driver to enjoy a more precise connection with the road ahead, feeling what the front tyres are doing with utmost confidence and accurately gauge available grip.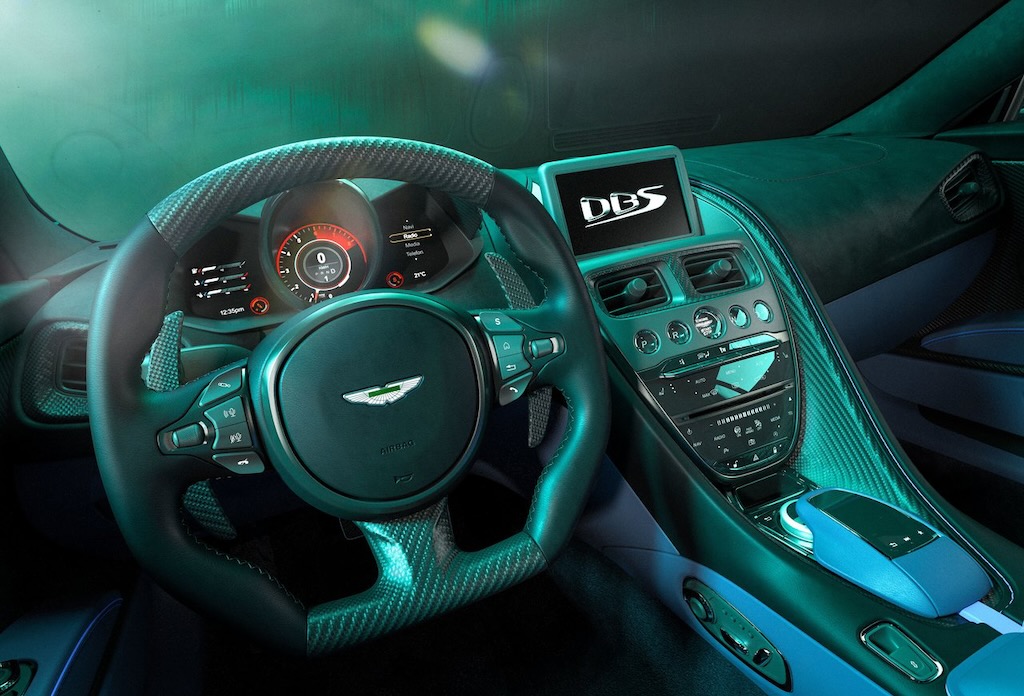 Integral to achieving the engaging character and heightened steering feel of the DBS 770 Ultimate, front end lateral stiffness has been improved by 25% to provide maximum performance feel and response. This increase has been achieved with an enhanced front cross member, and thicker rear undertray, which also increases global torsional stiffness by 3% for perfectly balanced driving dynamics.
Enhancements have also been made to the Adaptive Damping System (ADS), DBS 770 Ultimate receiving unique damper calibration and software tune focusing on control and composure without compromise to ride quality. By enhancing driver connection and preserving the DBS' unmistakable continent crossing character, the DBS 770 Ultimate elevates Aston Martin's exemplary Super GT to even greater heights.
Just as the DBS 770 Ultimate has been mechanically honed, its appearance has too been amplified to present an assertive design and uncompromisingly unique aesthetic befitting of a final edition model created to celebrate the end of an era.
Being an Aston Martin, this enhanced form also had to possess an authentic level of function. Both to provide increased air flow to the radiators, enhancing thermal management and give greater visual road presence. Drawing increased air flow through the engine radiators, the clamshell bonnet features a dramatic 'horse-shoe' engine vent and a new front splitter integrates two new outboard vents. Together these serve to enhance cooling and echo the design signatures of previous DBS and V12 engine models.
Further detail design changes for DBS 770 Ultimate include 2×2 Twill Carbon Fibre Cantrail, Windscreen Surround, Mirror Caps, and Fender Louvre as standard. A new carbon fibre sill element visually lowers the side profile towards the rear wheel, creating a poised stance that accentuates the DBS's muscular physique. A unique design of rear diffuser maintains aerodynamic balance from front to rear and ensures the DBS 770 Ultimate is as unmistakable from the rear as it is from the front.
DBS 770 Ultimate is further distinguished by a new and unique 21" wheel style available in three finishes. Taking inspiration from the formidable Aston Martin Valkyrie and Victor, this new 21" multi-spoke design is available in full Satin Silver finish for a bright jewellery appearance, full Satin Black finish for a contemporary and sporting appearance or optional Satin Black with Diamond Turned finish to give a darker, yet sophisticated appearance of the car. Pirelli P Zero high performance tyres – 265/35 R21 front and 305/30 R21 at the rear – are standard fitment on all rims.
Inside, the DBS 770 Ultimate delights with a dazzling array of fresh design treatments that set it apart, while retaining the instantly recognisable cabin environment of the current DBS. Signifying its halo positioning, DBS 770 Ultimate comes with Sports Plus Seats trimmed in full semi-aniline leather and Alcantara, featuring a 'fluted' quilt and perforation pattern as standard. Aston Martin's performance seat can also be selected as an option. A bespoke trim split has been introduced, with contrast colours linked to welt and stitching, along with a tailor-made strap and buckle badge featuring a laser etched DBS 770 Ultimate logo found on the centre arm rest. Carbon Fibre Gearshift paddles are also fitted as standard.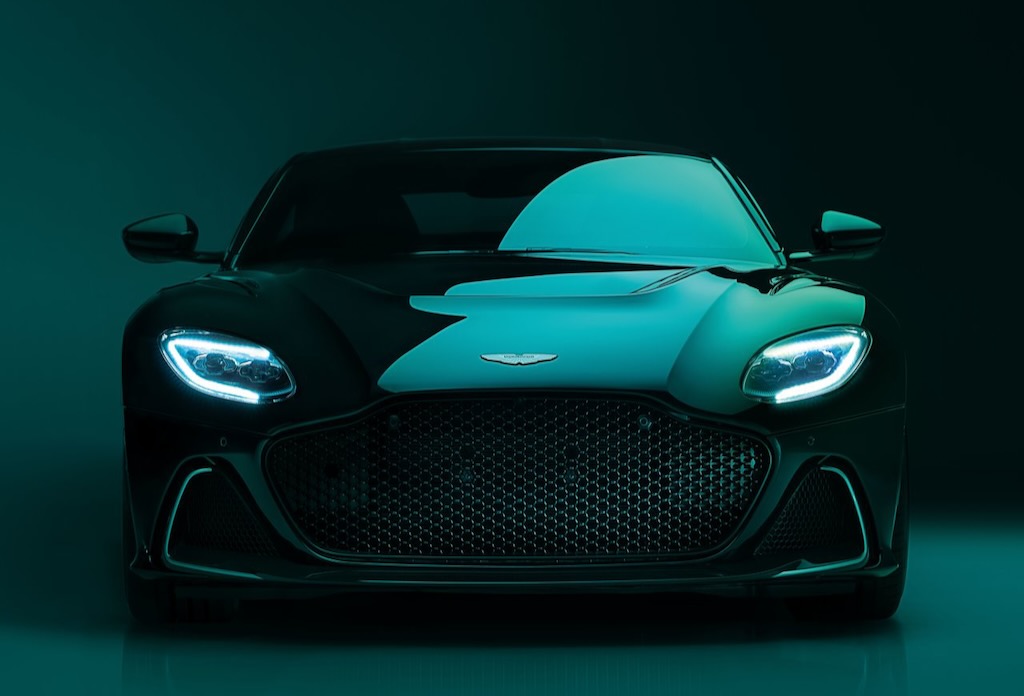 Finally, DBS 770 Ultimate is fitted with a unique set of sill plaques showcasing the Aston Martin Wings, DBS 770 Ultimate logo and Limited-Edition numbering signifying the vehicle as one of 300 Coupes or 199 Volantes.
Like all Aston Martins, the scope for true one-of-a-kind personal specification is virtually limitless. A diverse range of Q by Aston Martin bespoke options are available on                 DBS 770 Ultimate, including Q liveries with assorted graphics options, painted wheels to match body or graphics colours, tinted carbon fibre and woven leather seat inserts, trim inlays and a carbon fibre steering wheel.
Aston Martin Chief Technology Officer, Roberto Fedeli, said of the DSB 770 Ultimate: "When an iconic model generation reaches the end of production it is important to mark the occasion with something special. In the case of the DBS 770 Ultimate, we have spared nothing in ensuring the final version of our current series production flagship is the best-ever in every respect. Not only is it the fastest and most powerful DBS in our history, thanks to a comprehensive suite of improvements to the transmission, steering, suspension, and underbody structure; it is also the best to drive."
Marek Reichman, Aston Martin Chief Creative Officer, adds: "DBS has always sat at the pinnacle of the Aston Martin production model line-up. And now we're infusing DBS 770 Ultimate with even more… more power, more performance purity and all with more sophistication, more taste and in the most considered manner.  Something so raw, and yet so beautiful it's almost intimidating to look at. It's through this design approach that we came up with the shapes – starting with the amped-up front end – and from there everything else flows in design balance with the performance upgrades."
Production of the DBS 770 Ultimate is due to commence in Q1 of 2023, with first deliveries scheduled to begin during Q3 2023.