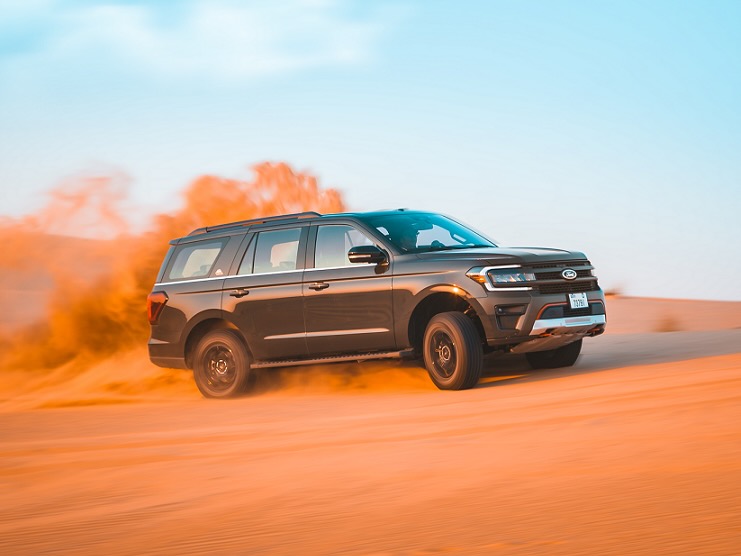 It's Camping Season – Here Are Five Things to Check Your SUV Has Before Venturing Out
Read Time:
2 Minute, 21 Second
As we begin the slow transition into summer, there's no better time than now to pile family and friends into an SUV for a camping trip to create lasting memories and connect with nature.
Here, experts from the Ford Middle East's engineering team have shared five things you need to look out for before setting out.
Spacious Interior
Whether you're carrying many passengers, cargo, or both, ample room is a must for any camping trip. Seating for up to eight passengers and the flexibility of folding down the second and third rows for added cargo space is useful, ensuring plenty of room for camping gear and supplies – tents, barbecue grills, drinks coolers, sleeping bags, and much more.
To keep driver and passengers refreshed on the road, a large center console fridge comes in quite handy, with room for plenty of beverages and water.
Robust Off-Roading
Off-roading credentials are an important thing to consider if you'll be taking your adventure on to the beaten track. A high-output engine delivering plenty of horsepower and torque is mandatory for tackling tough dunes, while features such as Trail Turn Assist allow tight pivots on low-friction surfaces such as these, so you can reach even the remotest sites to set up camp.
Other useful features include Standard Trail Control, which operates like a low-speed cruise control and allows you to focus on obstacles in the terrain, while a wider wheel track helps provide more stability. It's also important to be able to easily deflate tires before navigating softer sands.
Fuel Economy
SUVs with a smaller engine displacement, standard 10-speed Automatic Transmission, and Auto-Start Stop, can offer improved acceleration and reduced fuel consumption.
Meanwhile, features such as Port Fuel Direct Injection improve power output and efficiency at lower emissions – long road trips need to be as expensive to fuel as you think.
Advanced User Experience Technology
A large touchscreen that's easy to command the vehicle is great for road trips, as is seamless smartphone integration and a booming sound system – these things ensure a driver has an easy ride, while passengers can stay entertained and comfortable throughout.
Safety Features
In 2023, SUVs offer more standard and available safety features than ever before. These include Pre-Collision Assist, Adaptive Cruise Control, Blind Spot Assist, and Lane Centering Assist – all of which not only make the driving experience smooth but also contribute to lowering the chances of an accident.
Safety features are now specialized for off-road routes too, such as front-view and object-detection cameras scanning for obstacles.
Ultimately, a camping trip needs to offer everyone taking part an escape – and the vehicle that gets you there needs to deliver capability, comfort, and peace of mind.