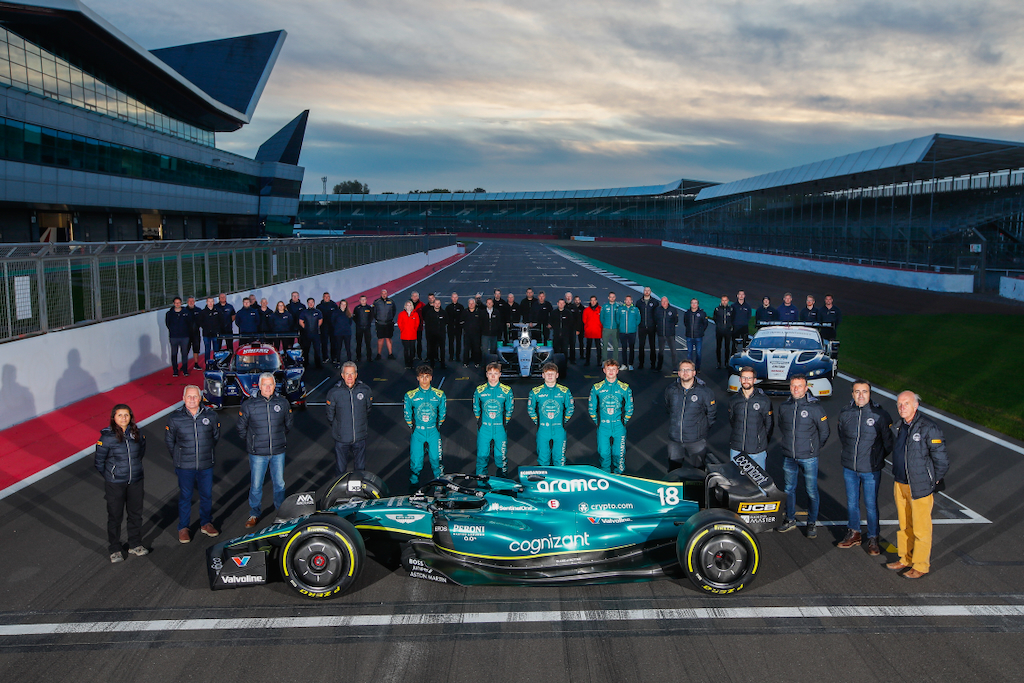 Luke Browning shines in Aston Martin F1™ Team Silverstone test
Read Time:
3 Minute, 57 Second
British racing driver Luke Browning made an impressive debut when he tested an Aston Martin Aramco Cognizant Formula One™ Team car on Tuesday (24 October) as part of his prize for winning last year's Aston Martin Autosport BRDC Young Driver of the Year Award [AMABA].
The 21-year-old completed 44 laps of Silverstone's legendary Grand Prix circuit in an Aston Martin AMR21, similar to the car Sebastian Vettel finished on the Azerbaijan Grand Prix podium with during the 2021 FIA Formula 1 World Championship season.
The day began with two series of installation laps on the 3.66-mile long circuit (located across the road from the brand new AMR Technology Campus) before continuing into a series of slick tyre runs. In total, Browning completed more than 240km running in the car.
Browning, who won the 2020 British Formula 4 title and GB3 crown in 2022 before stepping up to FIA Formula 3 this year, sampled both hard and soft-compound Pirelli tyres across a total of four runs throughout the day aboard the 1.6-litre V6-engined car, which combined with a twin-energy hybrid retrieval system, can produce around 1000bhp.
"It was a little boy's dream come true," Browning said. "It was just as fast as anyone might think it could be – absolutely ballistic! The power, brakes and high-speed downforce were just incredible. I'm truly lost for words.
"Although I knew this day was coming, it didn't sink in until I walked into the garage and saw the Aston Martin F1 car there with my name on the halo.
"What surprised me was how refined the Aston Martin was – not what I was expecting. You get in and while it's incredibly powerful, it's smooth and feels drivable – something that really gives you confidence. Sure it's a little daunting initially when you turn into Copse at nearly 200mph, but once the car's at its most loaded, you feel quite comfortable – like being on a skateboard and dropping off a ramp. I took that corner flat on my first run on new tyres too, which was really cool."
"The whole experience has been a dream and the team were so welcoming. I'm so grateful to everyone involved from Aston Martin, Autosport and the BRDC, who has made this possible for young racing drivers."
Browning won the test, along with a cash prize of £200,000, full British Racing Drivers' Club membership, an Arai helmet and a Jordan Bespoke personalised helmet bag, after beating three pre-selected rivals in a two-day assessment at Silverstone last year in various machinery including an Aston Martin Vantage GT3.
Aiming to emulate his achievement and win the AMABA in 2023 are four of the most talented rising UK stars of the single-seater world.
FIA Formula 3 Championship race winner Taylor Barnard, Arvid Lindblad, who finished third in Italian F4 this year, new GB3 champion Callum Voisin and Joseph Loake – one of his main challengers for the title – are the four drivers competing to win the award and the Aston Martin F1 Team test.
All four drove extensively in a range of racing cars, including Beechdean AMR's Vantage GT3 and machines from sports-prototype and single-seater racing.
The quartet will undergo a range of further assessments by an expert judging panel that is chaired by Derek Warwick, sportscar legend and ex-BRDC President) and includes long-time Aston Martin works driver and multiple Le Mans 24 Hours class winner Darren Turner. The winner will be announced at the annual Autosport Awards in London on December 3.
Robert Sattler, F1 Evolution Programme Director, AMF1 Team added: "We were impressed with Luke, who adapted extremely well to the demands of driving a Formula 1 car for the first time. Although he has a proven track record of winning junior single-seater championships, the Aston Martin AMR21 is a big step up from what he's been used to driving in Formula 3 and there are a lot more engineers and other staff involved in running a test like this than he'll ever have experienced before. His feedback was outstanding and he was able to translate what we discussed off-track into ways of improving performance on it, and consistently. That was no great surprise because if you're talented enough to win the Aston Martin Autosport BRDC Young Driver of the Year Award, then we expect you to have the potential to go all the way to the top in your racing career. Luke has certainly made a very good step on his journey and we wish him all the best for the future."