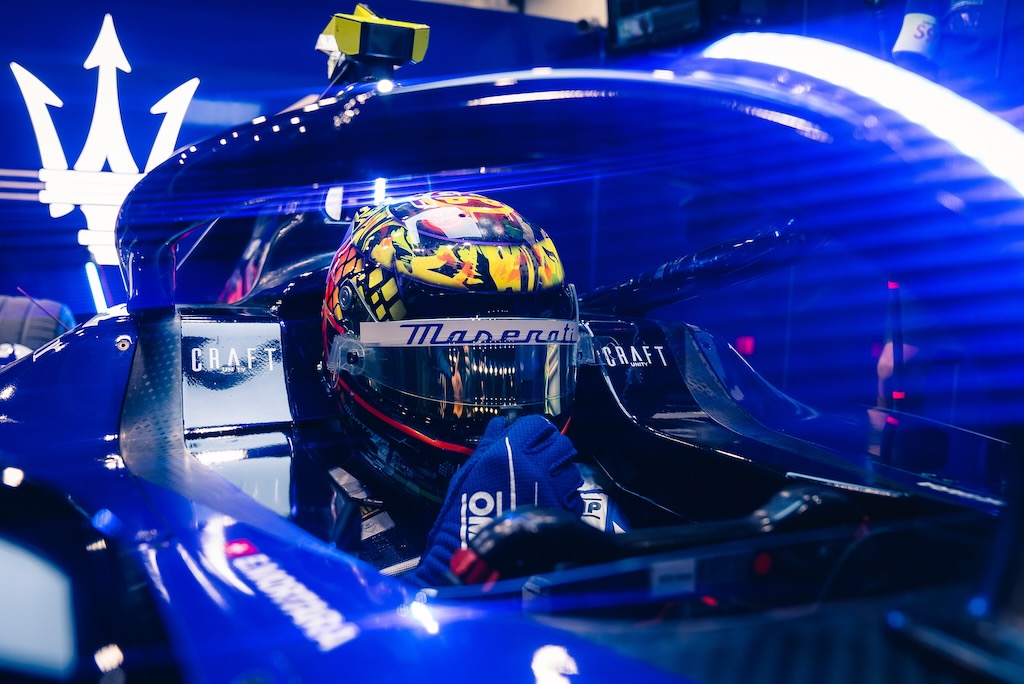 Maserati MSG Racing rises from challenging first race in Diriyah
Read Time:
3 Minute, 45 Second
Maserati MSG Racing experienced a difficult opening race at the 2023 Diriyah E-Prix, with the team navigating a handful of challenges in the first part of Formula E's Saudi Arabian double-header.
Following a promising weekend in Mexico City, the team made positive progress during practice at the UNESCO World Heritage Site, however, endured a bruising qualifying session in the afternoon.
Both Edoardo Mortara and Maximilian Günther launched their efforts in Group A, although a sudden front tyre lock and collision in Turn 11 brought about an early end to Max's afternoon of running.
Later in the session, Edo was also involved in an accident, in which an off-line half-spin tipped the Swiss-Italian driver into the barriers on the outside of Turn 16.
As a result of extensive repair work, Max was unable to participate in the race, which left Edo as Maserati MSG Racing's sole charger.
From 20th on the grid, he made immediate progress on the opening lap and following a brief Safety Car period, continued to fight forward.
By lap 11, Edo had ascended to 15th and next overtook Sérgio Sette Câmara for 14th before settling into a rhythm behind reigning World Champion, Stoffel Vandoorne.
A puncture on lap 33 of 39 dealt a final cruel blow and forced Edo to retire from the race, with the team's full attention now placed on Race Two in Diriyah.
In Their Words
James Rossiter, Team Principal, Maserati MSG Racing
"In the face of difficult situations, action is the only response and after a very challenging qualifying, the team came together and most importantly, came back fighting. The mechanics did an incredible job to repair Edo's car and get him on the grid for the race. Work on Max's new chassis is still ongoing, and we still have a lot of work to do overnight. Before our incidents in qualifying, I think we were in a good position and initial findings from practice were very promising. Motorsport is unpredictable and it can be cruel, but that's just its nature. Spirits for tomorrow are high and if we put a clean day together, I'm confident that we can show the performance we're capable of."
Edoardo Mortara, Driver, Maserati MSG Racing
"Today hasn't been easy, but behind the difficulties, I think there are some positives to take. Our pace during practice was quite competitive, we showed some major improvements, and although qualifying didn't go as we hoped, the performance in the race was fantastic. It's always tricky to start from that back of the grid but from 20th I was able to make good progress through the field before an unfortunate puncture but I'm optimistic for tomorrow. If we can have another strong practice and qualify well, I think points can definitely be on the table."
Maximilian Günther, Driver, Maserati MSG Racing
"We clearly took a step in the right direction from FP1 to FP2. I felt more comfortable in the car and the progress was good. The crash in qualifying was very unfortunate, and that defined my day. I was halfway through my first push lap, I locked the fronts under braking and that meant that I was unable to slow the car down. It was a big crash with a lot of damage, and that's why we weren't able to do Race One. We take it as it is, and that's racing, but tomorrow is a new day full of new opportunities. I can't wait to get in the car again. We are a strong team."
Giovanni Sgro, Head of Maserati Corse
"The Maserati Brand is at the start of our first season in Formula E, and with that brings new challenges. Maserati is no stranger to motorsport dynamics and complexities so although today was not the result we were hoping for, the team is working relentlessly to move forward and focus on tomorrow's race."
The Race In Numbers
Edoardo Mortara
Free Practice One // P11
Free Practice Two // P11
Qualifying // P20 [1:11.708, Group A]
Race // DNF
Positions Gained // N/A
Fastest Lap // 1:11.364
Championship Position // P22
Maximilian Günther
Free Practice One // P19
Free Practice Two // P16
Qualifying // P22 [1:32.982, Group A]
Race // DNS
Positions Gained // N/A
Fastest Lap // N/A
Championship Position // P14
Maserati MSG Racing
Championship Position // P8