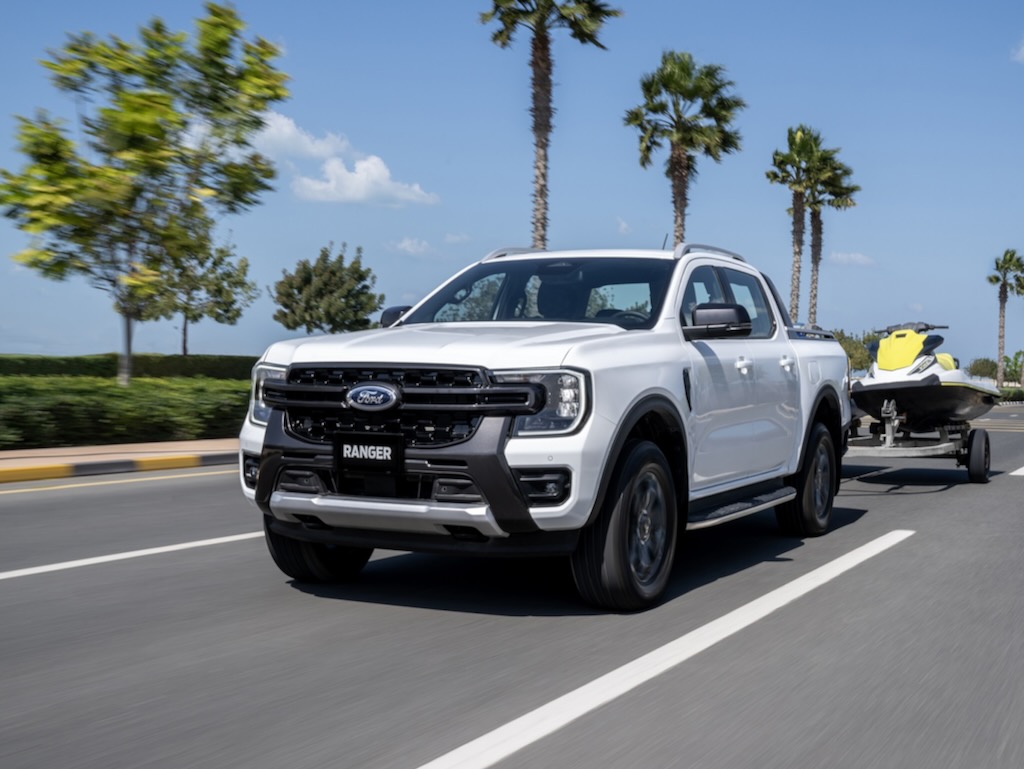 Next-Gen Ford Ranger Wildtrak: High-Tech, Connected, Versatile for Work, Family & Play
Read Time:
5 Minute, 32 Second
Ford Middle East put the global pickup world on notice by revealing the smartest, most versatile and most capable Ranger ever – delivering an even more desirable pickup partner for customers.
Using years of Ford truck expertise and deep understanding of truck customers, the company collaborated with customers around the globe to create a vehicle and ownership experience that Next-Gen Ranger Wildtrak owners can rely on for their businesses, family lives and adventure.
New Look, New Capabilities
The Next-Gen Ranger Wildtrak has a bold exterior featuring a defined new grille, signature C-clamp headlights, and a subtle shoulder line incorporating bolder wheel-arches that give Ranger a sure-footed stance. For the first time, Ford Next-Gen Ranger offers matrix LED headlights, while the taillights are harmonized with the signature graphics on the front. Inside, the cabin delivers premium comfort and technology, with soft-touch materials around a prominent portrait-style center touchscreen with Ford's signature SYNC®4 connectivity and entertainment system.
Underneath, an upgraded chassis rides on a wheelbase 50mm longer and a track 50mm wider than the prior Ranger. A hydro-formed front-end structure creates more space in the engine bay to future-proof the Ranger for other propulsion technologies. It also opens up the front of the pickup to allow more airflow to the radiator, which helps keep running temperatures low when towing or carrying heavy loads.
New Powertrain with Improved Ride
The Next-Gen Ranger Wildtrak will be available with a tried-and-tested 2.3L EcoBoost that underpins a range of Ford global products and is a perfect choice for customers who prefer petrol propulsion. The pickup is also equipped with a class-leading 10-speed automatic transmission.
To develop the ride and handling expected of a truck customer's use for a wide range of work, family, and play, engineers focused on the fundamentals. The front wheels have been shifted forward 50mm for a better approach angle and outboard for better off-road articulation to improve the off-roading experience. Engineers also shifted the rear suspension dampers outboard of the frame rails to give drivers and passengers a better ride on- and off-road, no matter if they're carrying heavy cargo for a weekend camping, or just taking the family out for dinner.
Customers will enjoy the electronic shift-on-the-fly system designed for capability when and where they need it. Off-road recovery is made easier with prominent dual recovery hooks in the front bumper.
For the first time, the Next-Gen Ranger Wildtrak offers drivers a range of drive modes: Normal, Eco, Tow/Haul, Slippery for on-road, and Mud/Ruts and Sand for use off-road. These modes adjust everything from the gearshift to throttle response, traction and stability controls, ABS and more – making off-roading more accessible than ever before.
Tested for the Middle East
To ensure it was ready for the challenging regional climate, the Next-Gen Ranger has been put through rigorous and extensive in-market evaluation using early built prototype vehicles with different build pedigrees and upgrades on diverse terrains for nearly a year. The testing included a summer cycle (May to August) to guarantee consistent exposure to peak daily temperatures between 43°C and 49°C and severe sun loads for extended periods of time.
"The objective of the assessment is to compare the vehicle's performance to its design in addition to ensuring that the manufacturing phase will not be marred by any issues of a particularly severe nature," said John Willems, Ford Ranger Chief Program Engineer.
To ensure that the Next-Gen Ranger meets or exceeds the expectations of customers in the Middle East, several enhancements have been implemented. These include, but are not limited to, powertrain optimization to enable the vehicle to sustain maximum speed for extended distances; climate performance to cool the cabin off quickly and comfortably during the region's scorching summers; suspension evaluation, which involves putting the vehicle's struts and shock absorbers through their paces by driving it off-road at high speeds and engine loads for a few thousand kilometers; and improvements to the infotainment system to guarantee that it is adapted to the needs of local customers.
Customer-focused interior features
Customers wanted a flexible, modern cockpit that caters to both work and family duties. So, Ranger needs to serve as both a workspace and a haven, providing smart and connected features with more comfort and storage options than ever before.
The heart of the Ranger's connective experience is the large 12-inch touchscreen in the center stack. It complements the fully digital instrument panel and is loaded with Ford's latest SYNC4® system, which comes customer-ready with its voice-activated communications, entertainment and information systems.
With the press of a button, drivers can go to Ranger's dedicated screen for all off-road and drive modes where they can monitor the driveline, steering angle, vehicle pitch and roll angles and other controls. A new short-throw e-shifter is central to the layout, intuitive, and a popular feature with customers.
The design team also created clever storage and useful features for owners. There are not only places to store your phone or charge it wirelessly (where compatible), but there's a large center console bin to stash things. In addition, the door pockets are designed to carry more, the wide dash conceals an upper glovebox and there are storage bins under and behind the rear seats.
Built to do more with better access, more functional space
To improve access to the load box, the Ford team created an integrated side-step behind the rear tires of the Next-Gen Ranger Wildtrak. In addition, the Ranger team widened the truck by 50mm, allowing the pick-up to carry a larger variety of gear, especially in the cargo box.
Other customer-focused touches include a new, tough plastic-molded bedliner that protects the truck bed; extra cargo tie-down points; a new cargo management system designed with dividers to hold various-sized items and store objects that would otherwise have to go in the cab; and a tailgate that doubles as a mobile work bench with an integrated ruler and clamp pockets.
Accessories to help you personalize
Customers will be able to personalize their Next-Gen Ranger Wildtrak with a range of almost 600 fully factory-backed work, urban and adventure accessories, depending on the market. These include those developed in collaboration with global off-road icon, ARB 4×4 Accessories. The ARB 4×4 Accessories and Ford collaboration will initially be rolling out in select markets.