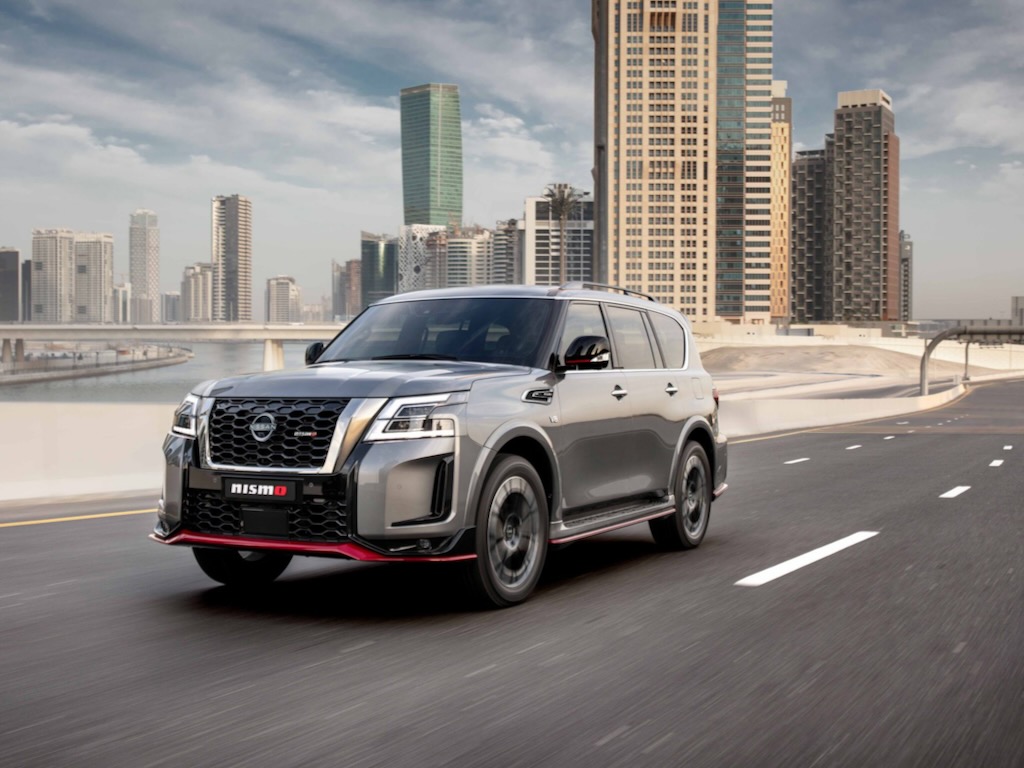 Nissan introduces the most powerful and connected Patrol NISMO in the UAE
Read Time:
3 Minute, 39 Second
Catering to the region's desire for high-performance and technologically-advanced vehicles, Nissan has launched the 2023 Nissan Patrol NISMO, equipped with the brand's innovative NissanConnect technology, in the UAE. Developed to elevate the overall ownership experience of the Patrol NISMO, NissanConnect is the first-of-its-kind digital platform by Nissan to offer customers a seamless connection between their 2023 Nissan Patrol NISMO and smartphone for added safety and convenience features.
Comprising of a vehicle-installed device and an intuitive mobile application, NissanConnect offers twelve unique and beneficial features grouped under three key categories: Navigation & Driving, Convenience & Comfort, and Safety & Car Health. Through their smartphone, customers can remotely lock and unlock doors, activate the horn and lights, and start the engine to cool the cabin ahead of their departure. Additionally, and for added safety, they can also set customizable smart alerts for speed, curfew, and geographical boundaries, to better monitor how, where and at what time their 2023 Nissan Patrol NISMO is being utilized.
Designed exclusively for customers in the Gulf, the Nissan Patrol NISMO reinforces the build of the Patrol V8 model and is aligned with Nissan's design philosophy of being bold, energizing, human and alive. Its exclusivity and ability to combine the refinement of a luxury SUV with the thrill of a sports car, have long been admired by enthusiasts across the region. Exuding a sense of thrill and excitement, the 2023 Patrol NISMO features a carefully tuned engine by Nissan's Takumi master craftsmen, as well as NISMO-branded side fender vents, and red accents on the interior and exterior denoting its sporting pedigree.
Thierry Sabbagh, President, Nissan Saudi Arabia, INFINITI Middle East and Managing Director, Nissan Middle East, said: "The introduction of NissanConnect to the 2023 Nissan Patrol NISMO is yet another example of our drive for continued innovation and commitment to making advanced mobility solutions accessible for all. At Nissan, we focus on the evolving needs of customers in the region and this latest innovation, NissanConnect, enhances customer experiences while making the 2023 Nissan Patrol NISMO safer and more connected than ever before."
The distinctive design of the Patrol NISMO exudes sportiness with aerodynamic inserts and a variety of NISMO badges, heighted by the signature NISMO red line wrap around the SUV's base. The honeycomb three-dimensional mesh emphasizes the signature V-motion grille, flanked by LED headlights to create an imposing presence on the road. In the back, dark chrome inserts and wraparound taillights make a striking impression, while the LED rear fog light – inspired by Formula One – emits the same brightness as the car's brake lights in adverse conditions.
The interiors of the 2023 Patrol NISMO dial up luxurious comfort while underlining NISMO's racing heritage. Premium quality seats with crafted quilting, together with a black Alcantara steering wheel and red center stripe, allow drivers to feel the thrill while cruising the streets. Red stitching and carbon fiber inserts run along the center console and sit fittingly in the Patrol NISMO for a sporty and dynamic feel. Made of the highest strength and resistance, it is the optimal material for the ultimate car.
This striking center console features a 12.3-inch infotainment screen with wireless Apple CarPlay and Android Auto connectivity, as well as an ergonomically designed Intelligent Driving dial. Adding to the overall experience is a 13-speaker Bose Premium Sound System with perfectly placed speakers to offer a premium audio experience for all onboard. Improved noise reduction also enables drivers to have a more luxurious experience inside the Patrol NISMO.
Under the hood, the Patrol NISMO's V8 engine is tuned by Nissan's Takumi craftsmen, a group of five master engine builders who hand-build Nissan GT-R engines – resulting in a concentrated 428hp and peak torque of 560Nm. Bilstein-tuned suspension and shock absorbers, which come in a prominent yellow color, allow for better handling while a side duct in the front bumper, roof spoiler, and lighter 22-inch two-tone aluminum wheels refine aerodynamics to achieve zero lift force.
The 2023 Nissan Patrol NISMO which is available at Nissan's partner network across the Middle East, features the latest Nissan Intelligent Mobility (NIM) technologies. This includes Intelligent Emergency Braking with Pedestrian Detection, Intelligent Forward Collision Warning, Smart Rear View Mirror, and High Beam Assist.