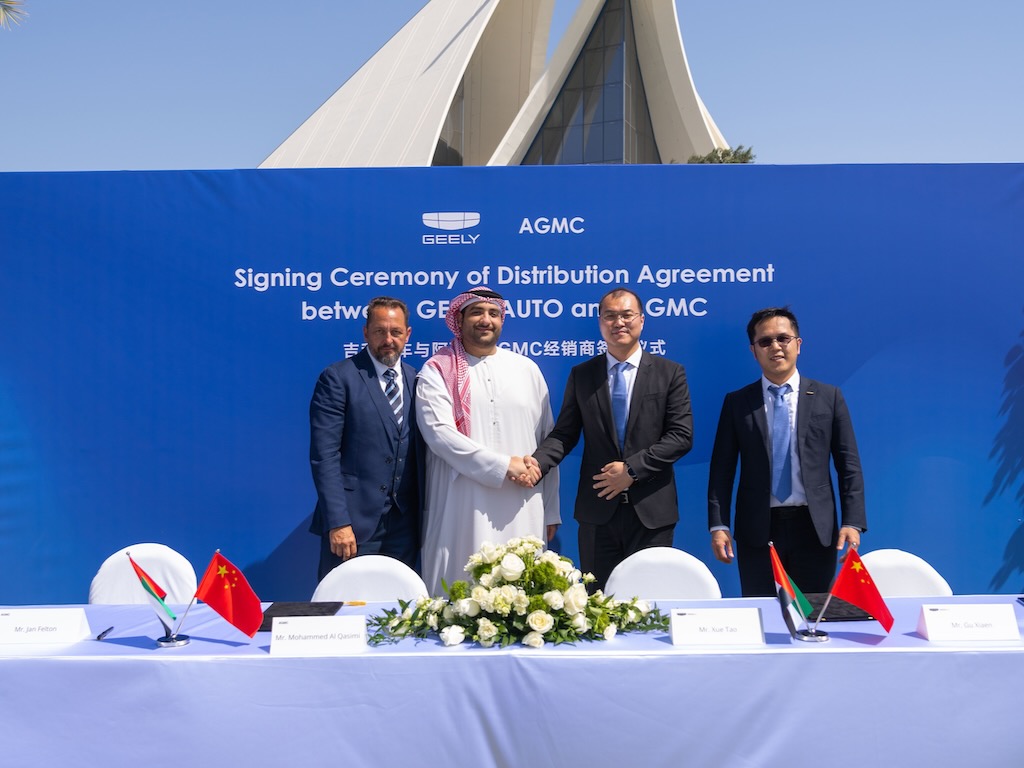 AGMC Designated as the Official Distributor for Geely Auto in the UAE
Read Time:
3 Minute, 48 Second
AGMC, one of the leading importers of luxury vehicles in the United Arab Emirates, has signed an agreement with automotive giant Geely Auto to become the official distributor for the brand's range of exciting sedans and SUVs in the UAE.
The agreement was penned between Jan Felton, Managing Director of Albatha Holding, Sheikh Mohammed Al Qasimi, Regional Manager AGMC, XUE Tao (Cook), Deputy General Manager of Geely Auto International Corporation and General Manager of Geely Auto Middle East, and GU Xiaen (Alex), Deputy General Manager of Geely Auto Middle East, during a signing ceremony at the Dubai Creek Golf and Yacht Club. It comes ahead of the opening of AGMC's first dedicated Geely Auto flagship showroom and after-sales centre in Dubai in May, with further facilities set to launch in Abu Dhabi and Sharjah later this year.
Speaking at the ceremony, Jan Felton said: "Geely Auto is one of China's fastest-growing privately-owned automotive groups, with an impressive range of brands in their portfolio and strong technological expertise founded on decades of investment in research and development all over the world. This makes the Geely Auto brand the perfect addition to the AGMC stable of high-quality automotive products, and we are confident that our customers will appreciate the combination of quality, style, and performance that Geely vehicles offer."
GU Xiaen (Alex), Deputy GM of Geely Middle East further added: "The Middle East has always been one of Geely's key overseas markets. In the past three years, Geely's brand image, network development and service reputation in the Middle East have all reached a new level. AGMC is one of the most exceptional and professional car distributors in UAE market. Signing with AGMC represents a promising beginning for both parties in expanding Geely's business presence and fostering a prosperous partnership for the exciting future in the UAE."
In the initial stage, the new partnership will be materialized by the release of three popular Geely vehicles: the intelligent SUV Coolray , the stylish sedan Emgrand and the pioneering EV Geometry C.
Geely Coolray is a B segment SUV which offers a perfect combination of design, power, technology and safety. As one of the most popular compact SUVs in the region, Coolray has been designed to deliver an all-round driving experience, and it boasts best-in-class on-board powertrain and cutting-edge technologies such as powerful Engine, BMA Architecture and L2 level ADAS functions.
The Emgrand is a sedan offering a comfortable driving experience with elegant wide-body Hella flush design, skyline rhythmic taillight and world-class BMA architecture. Finally, Geometry C, the fully electric car that offers an environmentally friendly alternative to traditional gasoline-powered vehicles featuring industry-leading battery, motor and electric control technologies that can easily cope with a variety of driving scenarios, offering an extraordinarily long battery life and driving range.
"As the window of the Middle East region, the launch of the Geely brand in the UAE market will largely accelerate the realisation of our vision of 'Be Brand New' and our Geely Middle East 2025 Strategy, which forms an indispensable part of Geely's global strategy," Said Mr. GU, expressing his enthusiasm and ambition for the promising cooperation with AGMC during the signing ceremony. "With efforts from both, Geely endeavours to be the most competitive and respected Chinese automotive brand in the ever-changing UAE market."
Established in 1976, AGMC has delivered premium automotive products and services to its customers in the UAE for over 40 years, and today offers a full range of exceptional customer support services managed by the finest professionals in the industry and backed by superior after-sales services. The addition of Geely to its line-up is a testament to the company's commitment to providing its customers with the latest and most innovative automotive products.
Geely Auto Group is a leading automobile manufacturer based in Hangzhou, China and was founded in 1986 as a subsidiary of Zhejiang Geely Holding Group (ZGH). ZGH is a global automotive group that owns several well-known international automotive brands, with operations spanning the automotive value chain, from research, development and design to production, sales and servicing. Today, Geely Holding operates a number of brands including Geely Auto, Lynk & Co, ZEEKR, Proton, Volvo Cars, Polestar, Lotus, London Electric Vehicle Company, Farizon Auto, and Cao Cao Mobility. The holding group sold over 2.3 million vehicles in 2022, and has been listed in the Fortune Global 500 for the past ten consecutive years.