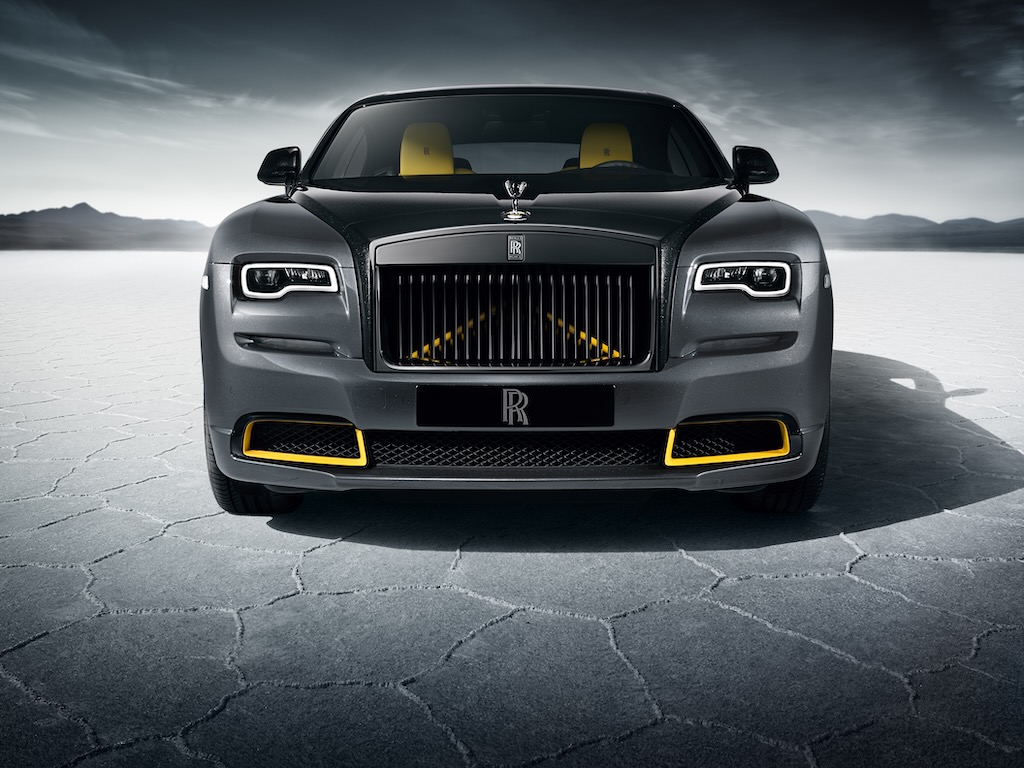 ROLLS-ROYCE'S BESPOKE BLACK BADGE WRAITH BLACK ARROW: A GRAND FINALE TO A TRANSFORMATIVE ERA
Read Time:
7 Minute, 49 Second
"Wraith is one of the most significant and influential cars we have ever made at Goodwood. Its extraordinary power, performance and presence opened the Rolls-Royce brand to an entirely new group of clients. It created its own following within contemporary culture and then expanded that further in its alternative Black Badge guise. As the last examples of this landmark motor car get ready to leave Goodwood, we commemorate Wraith's status as the last series V12 coupé we will ever make. Both Black Badge Wraith Black Arrow and its inspiration, the V12-powered land speed record-holding Thunderbolt of the thirties, represent the culmination of many long years of achievement, and the end of their respective eras. This magnificent final V12 coupé Collection captures both the significance and spirit of Wraith through the marque's hallmark and peerless Bespoke capabilities. A fitting finale for this transformative motor car."
Torsten Müller-Ötvös, Chief Executive Officer, Rolls-Royce Motor Cars
Rolls-Royce Motor Cars today unveils Black Badge Wraith Black Arrow to mark the end of production of one of the most transformative motor cars in the marque's history. This Bespoke masterpiece, limited to just 12 examples worldwide, is also the last V12 coupé Rolls-Royce will ever make, as it embarks on its bold new electric era.
WRAITH: A CULTURAL ICON
Launched in 2013, Wraith is one of the most important and influential models ever designed and built at Goodwood. More performance-focused than its predecessors Phantom and Ghost, Wraith fundamentally altered perceptions of Rolls-Royce and brought new, younger customer groups to the brand for the first time. Its wider cultural significance is underlined by countless references to the Wraith in music, cinema, art and fashion.
THE V12 CONNECTION
Wraith's dramatic 'fastback' silhouette signalled the motor car's dynamic intent, which was further amplified in 2016, with the introduction of Black Badge Wraith: a potent, subversive and even more powerful expression of this transformative motor car, offering some of the highest levels of performance ever achieved by a V12-powered Rolls-Royce.
Yet when considering how best to mark the end of the Wraith era, Goodwood's designers and engineers took inspiration for the Black Badge Wraith Black Arrow Collection from an equally significant V12 in     Rolls-Royce's long and storied legacy. In 1938, Captain George Eyston – whose bold, brave endeavours encapsulate the Black Badge spirit – set a world land speed record of 357.497 mph (575.335 km/h) with Thunderbolt, a seven-tonne, eight-wheeled leviathan equipped with two Rolls-Royce V12 'R' Series aero engines. The outbreak of the Second World War in the following year ended Eyston's endeavours; all subsequent records have been set with different engine types and configurations, enshrining Thunderbolt in perpetuity as the fastest V12-powered motor car ever built.
Thunderbolt's record attempts took place on the legendary Bonneville Salt Flats in Utah. Against the glare of the brilliant white surface, and under a blazing desert sun, the reflections from the car's polished aluminium body made it almost impossible to tell precisely when it passed the timing equipment. Eyston's simple but ingenious solution was to paint a large black arrow on the car's sides, incorporating a yellow central circle motif that could be seen clearly even at high speed. This is what gives today's Black Badge Wraith Black Arrow Collection both its name and unique historical context.
GRADIENT PAINT
Black Badge Wraith Black Arrow's exclusive Bespoke finish features a full colour graduation between two tones – Celebration Silver and Black Diamond. A glass-infused 'Crystal' paint over layer has been applied to the Black Diamond paint to enhance the transition between the two colours, achieving a striking motion blur effect from front to rear. This exclusive Bespoke technique also gives the coachwork a subtle texture inspired by the crusted surface of the Bonneville Salt Flats, set beneath a high gloss lacquer, which is polished for more than 12 hours to achieve a glass-like finish.
The realisation of this extraordinary finish required the marque to undertake 18 months of surface testing and development before the marque's Bespoke Collective of engineers, craftspeople and designers achieved a result befitting to Rolls-Royce standards. The total investment in time developing the material chemistry, application technique and surface finishing makes Gradient Paint one of the most technically complex paints that Rolls-Royce has ever created.
CONTRAST PALETTE
Contrast to the Gradient Paint is provided by Bright Yellow bumper inserts and Bespoke wheel pinstripes, subtly recalling the yellow circle within Thunderbolt's black arrow. In another Rolls-Royce first, Black Arrow's V-struts, located behind the radiator grille and in front of the engine, are also finished in Bright Yellow, subtly drawing the eye to the V12 engine behind the Black Badge dark chrome grille surround. This use of Bright Yellow extends to the base of the motor car's layered carbon fibre Spirit of Ecstasy, which incorporates a Bright Yellow ring detail and an engraving of the Collection name.
V12 LEGACY FASCIA
To commemorate Rolls-Royce's last-ever V12 coupé, the marque's Bespoke Collective of designers, craftspeople and engineers collaborated to create a unique artwork for Black Badge Wraith Black Arrow's fascia. The intricate, tactile design skilfully depicts the contemporary V12 engine in Wraith. In keeping with the Black Badge family's noirambience, the highly complex design – itself the product of two months of development – is engraved in a single sheet of black-coated aluminium to reveal the gleaming metal beneath, providing a bold visual link to Thunderbolt's polished aluminium body.
BESPOKE VENEER
Black Arrow's coach doors are lined with open-pore Black Wood, in a complex design comprising over 320 multi-directional and lasered marquetry pieces that mimics the cracked, irregular surface of the Bonneville Salt Flats. This extraordinary feature also extends onto the rear 'Waterfall' panel, which separates the two rear seats.
CONSOLE SPEEDFORM
Thunderbolt underwent a series of design iterations during its lifetime. Its final shape, in which it captured the records commemorated in Black Badge Wraith Black Arrow, is preserved forever in the illuminated, polished aluminium Speedform encapsulated behind glass on the front console.
NEW 'CLUB' LEATHER
Inside, Black Arrow's interior is provisioned with a new material type developed specifically for the Collection. The armrests, seat gussets, transmission tunnel, door detail, door panniers and lower dashboard panel are all finished in 'Club Leather' – its intentional greater sheen and even deeper black colouration provide a subtle contrast to the matte Rolls-Royce natural-grain black leather. The leather's natural markings are intentionally emphasised to give the interior more visible 'life lines', and a closer resemblance to what was described at the time as "the club-armchair type of driving seat which George [Eyston] prefers above all others". In keeping with the Black Badge series' use of daring pulses of colour, Bright Yellow is employed for the front seat leather. Atop the seat, the outer headrest features an arrow embroidery motif, providing rich, tactile detail and referencing the arrow symbol painted on Thunderbolt'saluminium body to enable the electric timing equipment to 'see' and capture the car at full speed.
TRACK GUIDE
When the steering wheel is set in a straight-ahead position, a dark marking at the twelve o'clock position aligns with a similar pattern in the seats. This references the black lines Eyston's team painted on the white Salt Flats to help him maintain direction – his sole point of reference at speeds of over 350 mph. In recognition of the significance of this marking, this track guide flows in a deliberately asymmetric line from the steering wheel to the driver's and rear passengers' seats.
RECORD CONSTELLATION
Given Thunderbolt's record-breaking status, it is only fitting that Black Arrow incorporates a record of its own. Casting a dramatic night's-sky ambience over the interior suite, Black Badge Wraith Black Arrow's Bespoke Starlight Headliner incorporates 2,117 fibre-optic 'stars' – the greatest number ever seen in a
Rolls-Royce motor car. All individually arranged by hand, the 'stars' depict the Milky Way as seen from vast open spaces, and the constellations precisely as they would have appeared over the Salt Flats in Utah on 16 September 1938, the date of Eyston's final, immutable record.
BLACK ARROW CLOCK
Inspired by the analogue instruments of the 1930s, the fascia clock bezel references the raw, technical aesthetic of Thunderbolt's interior, enhanced by black hand-tips that mimic the original car's side-arrows; the surround is inscribed with the legend 'Bonneville' and Thunderbolt's everlasting record speed for a V12-engined car of 357.497 mph. A further 'arrow' detail appears on the motor car's Bespoke treadplates.
ENGINE BADGE
An exclusive Bespoke plaque is mounted on the engine cover to signify this as the last V12 ever to be fitted to a Rolls-Royce coupé. Machined from a single piece of polished metal, the plaque is inscribed with the V12 monogram in Bright Yellow, and the legend 'Final Coupé Collection' in Black.
All 12 motor cars in the Black Badge Wraith Black Arrow Collection have been allocated to clients around the world.