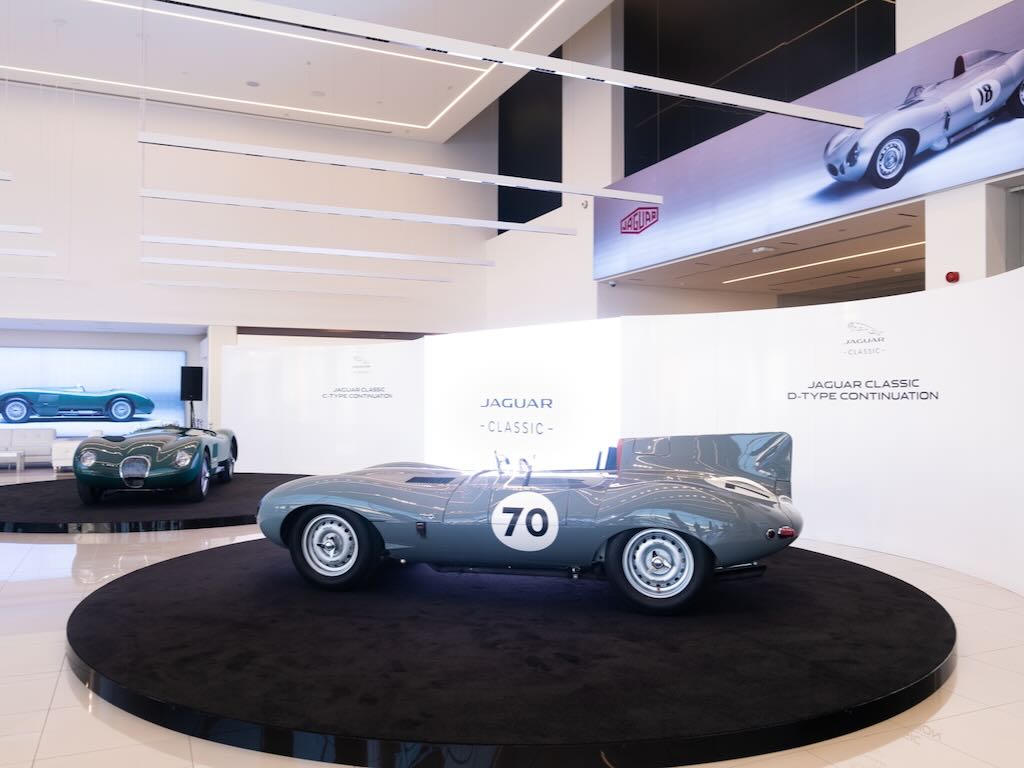 AL TAYER MOTORS HOSTS UNIQUE JAGUAR CLASSIC DISPLAY
Read Time:
2 Minute, 37 Second
Al Tayer Motors, the UAE's official Jaguar importer-dealer, staged a unique display of newly recreated historic Jaguar masterpieces, at its Dubai and Premier Motors Abu Dhabi showrooms, for the first time in the Middle East & North Africa region.
Two cars – the iconic C-Type, which in 1951 became the first Jaguar to win the hallowed 24 Hours of Le Mans race breaking every speed and distance record in its first try, and the legendary D-Type, which from 1955-57 won three consecutive 24 hours of Le Mans endurance races, took over the dealership's Jaguar showroom on Dubai's Sheikh Zayed Road in all their glory from November 21 – 24. The display then moved to Premier Motors Jaguar showroom in Rawdhat Abu Dhabi from December 4 – 6.
"It is a privilege to host the new continuation series of the C-Type and D-Type cars in our showrooms together with our partners Jaguar Land Rover Middle East. We always strive to create such exciting opportunities for our customers and automotive connoisseurs.  These cars offer a rare glimpse into periods of automotive history that have captured the imagination of millions globally ever since their original creation," said Ashok Khanna, Chief Executive Officer, Al Tayer Motors.
Jaguar Classics is bringing back to life these beautiful vehicles true to their original specifications from the 1950s giving motoring enthusiasts an opportunity to own these rare classics. The new versions of these historic cars will be hand-built at the 14,000m2 state-of-the-art facility Jaguar Land Rover Classic Works in Warwickshire, comprising 54 individual workshop bays and strip down areas, a dedicated engine shop and space for 480 vehicles under one roof
Famed for its progressive design and aerodynamic shape, several advancements contributed to C-type's unbeatable performance on the track. Iconic air-intake technology combined with a thinner gauged lightweight aluminium body are just some the unique features on this 1953 specification. Created with unparalleled attention to detail and craftsmanship, each C-type Continuation reflects the 1953 Le Mans-winning works team car specification, including its 3.4-litre straight-six engine with triple Weber carburettors – producing 220bhp – and revolutionary disc brakes that contributed to its record-breaking triumph.
The Jaguar D-type is one of the most iconic and beautiful competition cars of all time, with an outstanding record in the world's toughest motor races and it's just as spectacular today.
Jaguar Classic experts' painstaking research, with exclusive access to original Jaguar engineering drawings and records, ensures each new D-type is built to the authentic specifications laid down by competitions manager Lofty England and his engineers in the 1950s. D-type clients can choose either 1955-specification Shortnose or 1956-spec Longnose bodywork.
Globally, an extremely limited number of units of both vehicles will be available for Jaguar fans to own with prices starting from GBP 1,50,000 for the C-Type continuation and GBP 1,75,000 for the D-Type.
Automotive collectors and potential owners can register their interest through Al Tayer Motors and Premier Motors showrooms in the UAE.