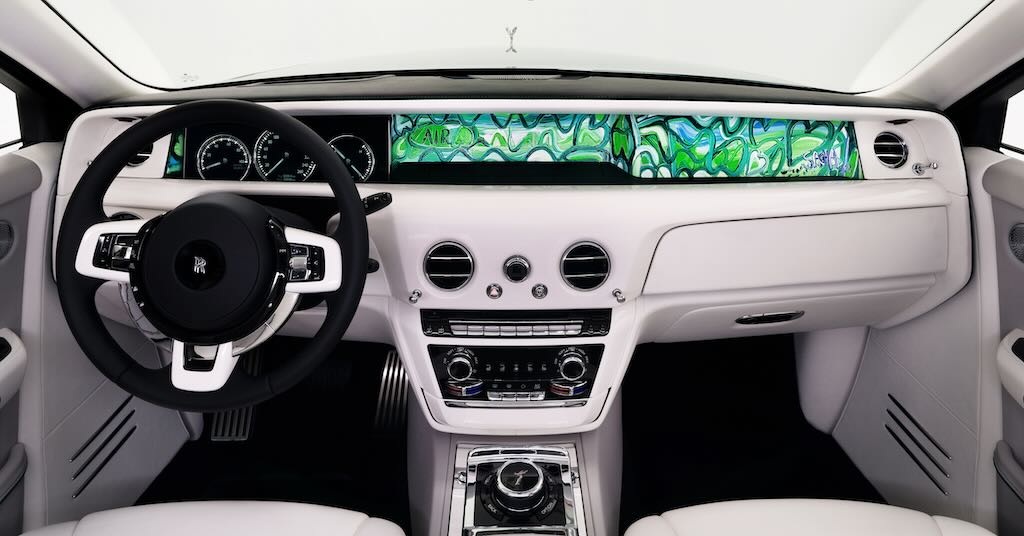 ROLLS-ROYCE UNVEILS PHANTOM 'THE SIX ELEMENTS'
Read Time:
7 Minute, 42 Second
Rolls-Royce reveals 'Phantom – The Six Elements' at a gala event in Dubai, UAE
A series of six one-of-one Phantom Series II Extended motor cars, representing an unprecedented convergence of fine art, design, technology and craftsmanship
Created by Rolls-Royce Bespoke Collective at Goodwood, resident Bespoke designer in the Private Office Dubai and dealer partners in Dubai and Abu Dhabi, in collaboration with world-renowned British artist Sacha Jafri
Each car includes a unique Gallery artwork, hand-painted by Jafri, inspired by one of the five traditional elements – Earth, Water, Fire, Wind and Air – plus a sixth, Humanity
Series has raised in excess of $1 million for charity; unique fund-raising NFT in each car makes this 'The Rolls-Royce that Keeps on Giving'
"Words cannot express how thrilled we are at the tremendous success of 'The Six Elements': The Rolls-Royce That Keeps on Giving. We at Rolls-Royce Motor Cars build exceptional motor cars for the few. However, we are also mindful of the many. This is why, together with our partners – Rolls-Royce Motor Cars Dubai and Rolls-Royce Motor Cars Abu Dhabi, we embarked on this unique journey in collaboration with the world-renowned artist Sacha Jafri to build six magnificent one-of-one Phantoms. I'm enormously proud of what we have achieved, and I am very pleased to announce that we, at the start of our journey, have already raised over $1 million for charity.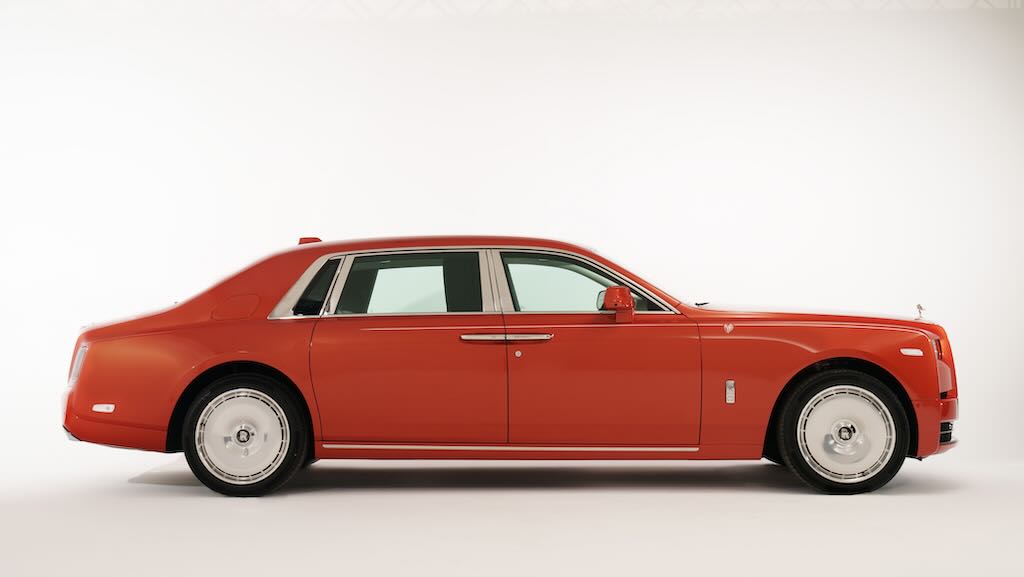 "Inspiring greatness sits at the heart of Rolls-Royce Motor Cars and is what constantly drives us. Phantom 'The Six Elements' is the very embodiment of this mission."
César Habib, Regional Director, Rolls-Royce Motor Cars Middle East & Africa
"This unique series is the result of a deep, meaningful and genuine collaboration between our great marque and the artist, Sacha Jafri. Phantom is our pinnacle product and designed to be a blank canvas, which can be transformed into a true work of art – this project is an extraordinary example of that. We are delighted to see these motoring masterpieces come to life after a remarkable journey of collaboration, creativity and craftsmanship, and we are thrilled with the success of the entire project and the money raised for charity. I congratulate the team involved both in Goodwood and the Middle East for achieving this inspiring feat."
Torsten Müller-Ötvös, Chief Executive Officer, Rolls-Royce Motor Cars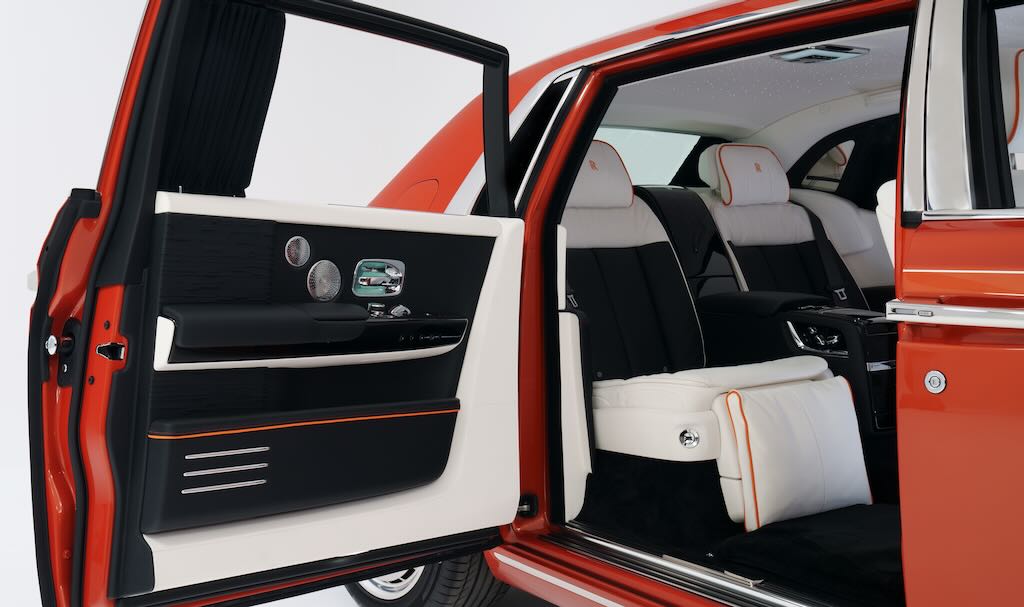 A boundary-pushing collaboration which brings to life an exceptional convergence of art and craftsmanship, Rolls-Royce Phantom 'The Six Elements' series had its official unveiling at a private gala event in Dubai, UAE, attended by clients and dignitaries, the Artist, Sacha Jafri, as well as Torsten Müller-Ötvös, Chief Executive Officer, Rolls-Royce Motor Cars and César Habib, the company's Regional Director Middle East & Africa.
'The Six Elements' elevates the nascent legacy of Phantom Gallery. Comprised of six one-of-one Rolls-Royce Phantom Series II Extended motor cars, each features a unique, hand-painted Sacha Jafri Gallery, distilling the most potent components of nature: Earth, Fire, Wind, Water and Air alongside the sixth element, Humanity. As each of the six unique motoring masterpieces was unveiled, audiences immersed themselves in the emotions suggested by each elemental force represented.
"Through my work I aim to combine the power of art with a stripped-back essence of expression, love, empathy, and intention, to inspire a more conscious and intention-filled Humanity, striving for a reconnected world; reunited by the common goal of a more hopeful & sustainable future for our planet," said Sacha Jafri, talking about the project.
Whilst Rolls-Royce motor cars is designed for the few, the marque is mindful of the many. Phantom 'The Six Elements' was born out of a conversation between Sacha Jafri, who frequently donates his works or their proceeds to charity, and César Habib, Regional Director, Rolls-Royce Motor Cars, Middle East & Africa. Together, they developed the idea of creating six individual motoring masterpieces, which became a means to donate funds for charities operating in the fields of health, sustainability, and education, and during the event, the donation of $1.23 million was divided among the following four charities that were announced:
Surgeons for Little Lives – South Africa
The donation will support paediatric surgeons in South Africa who are passionate about uplifting the lives of children in need of life-changing surgery and bring the much-required support for the 'Surgeons for Little Lives' fellowship of Paediatric Oncology Surgery Training as well as to the oncology patients' aftercare program.
Harmony House – India
A non-profit organisation that strives to improve the lives of children on a physical, emotional, and intellectual level and aims to give enriching and memorable experiences to each and every child. 'The Six Elements' donation will support the Resident Doctor and Nurse program to support as many children as possible and their families with much needed medical care.
The Beekeepers Foundation – UAE
A non-profit organisation with an objective to educate the public about the importance of bees in the ecosystem. The donation will focus on educating school students about the importance of sustainable beekeeping, and the vital role of bees in the environment and their importance for mankind and food security. All educational workshops will be held at the Rolls‑Royce Apiary, located at the Dubai Creek Golf and Yacht Club.
Beit el Baraka – Lebanon
The vision of Beit el Baraka is to ensure dignity to hard working Lebanese citizens by assisting them in their struggle with the increasing cost of living. In a spirit of respect and support, Beit el Baraka gives them access to food, decent livelihood, medical services and education. This non-profit organisation will benefit from 'The Six Elements' donation to support the 'Forsa' program. Forsa or 'chance' covers the tuition fees of the most vulnerable children in Lebanon.
PHANTOM THE SIX ELEMENTS: THE PINNACLE OF BESPOKE
Selected for his inimitable vision, style and use of colours, Sacha Jafri hand-painted each unique Phantom Gallery for 'The Six Elements'. The addition of Humanity as an element builds on the ethos of the British artist's works around the traditional five elements. For Sacha Jafri, each element evokes different emotions, spirit, energy and purpose and 'The Six Elements' seek to reflect these.
'The Six Elements' model in breathtaking Orange Metallic houses the 'Fire'-inspired Gallery which represents passion and belief. 'Fire' is balanced by 'Earth', with 'The Six Elements' in Gunmetal suggesting grounding and roots. 'The Six Elements' in a stunning Mindoro Green exterior with Grace White interior evokes an appreciation for 'Air', the essence of life and the Witterings Blue exterior of 'The Six Elements' 'Wind', enhanced by the Arctic White single short coachline, suggests the sentiment of freedom. Feelings of lyricism and fluidity are awakened by the Arabian Blue of the 'Water'-inspired Phantom, while the final 'The Six Elements' model – an Andalusian White Phantom – is inspired by 'Humanity' and reflects love, empathy and 'the linking of souls.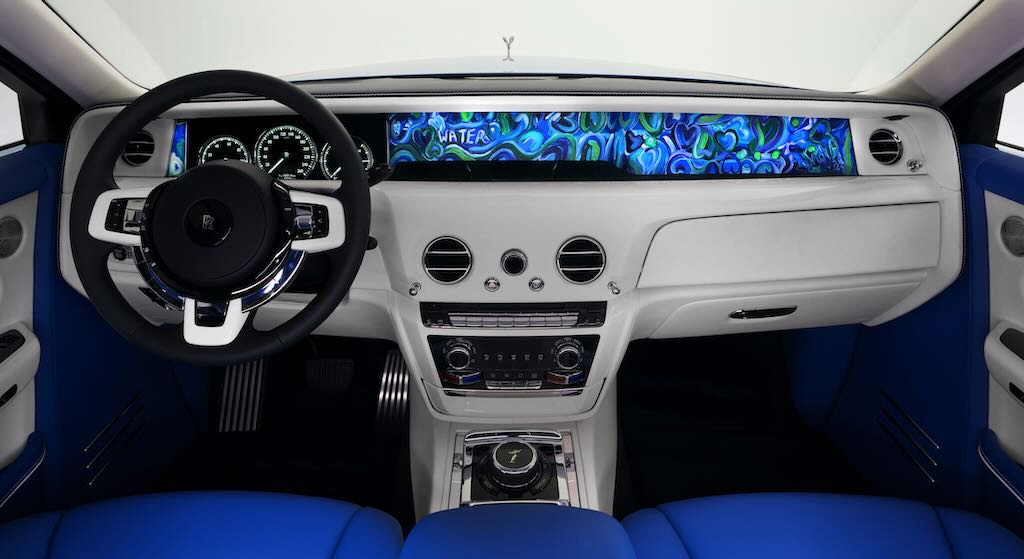 A further individual touch is the subtly different coachline adorning each motor car, with the word on the right-hand side of Jafri's heart motif indicating which elemental force inspired that particular expression. 'The Six Elements' also feature an engraved Spirit of Ecstasy base, rotated to indicate Jafri's relevant elemental force.
Sacha Jafri commented, "It has been an absolute honour working with the Rolls-Royce team and their Bespoke Designers to create such a unique project. It's a proud moment, to see my Heart-Logo along the coachline of each of the six cars in this stunning Rolls-Royce series, the first bespoke artist-created series for Rolls-Royce, with the 'Spirit of Ecstasy' uniquely featuring my depicted six elements around its base. However, I am most fulfilled by the immediate excitement and interest in this series, the elite group of Owners and Philanthropists now dedicated to our cause, and the creation of 'The Car that Keeps on Giving', forever raising money and awareness for the charitable concerns that are closest to my heart."
Michelle Lusby, Bespoke Lead Designer based at the Rolls-Royce Private office in Dubai, says, "For us as Bespoke designers, it's a wonderful privilege to work with a world-renowned artist like Sacha. We saw this project as a unique opportunity for an exchange of ideas between the art world and our own specialisms in design, materials and craftsmanship; that sense of discovery and shared inspiration really shines out from these amazing cars."
THE ROLLS-ROYCE THAT KEEPS ON GIVING 
Additionally, beyond the initial charitable donation, the six unique Phantoms can keep on giving thanks to a unique NFT initiative, providing even more value for the cause.
The six one-off NFTs are linked to each of the Phantoms, but owners may sell their NFT independently if they choose to do so. With every trade of the NFT, a royalty will be paid into a digital wallet dedicated to charity. In addition, a QR code will be uniquely embedded within the glove compartment of each Phantom Series II, enabling each of the six owners to view the NFT.