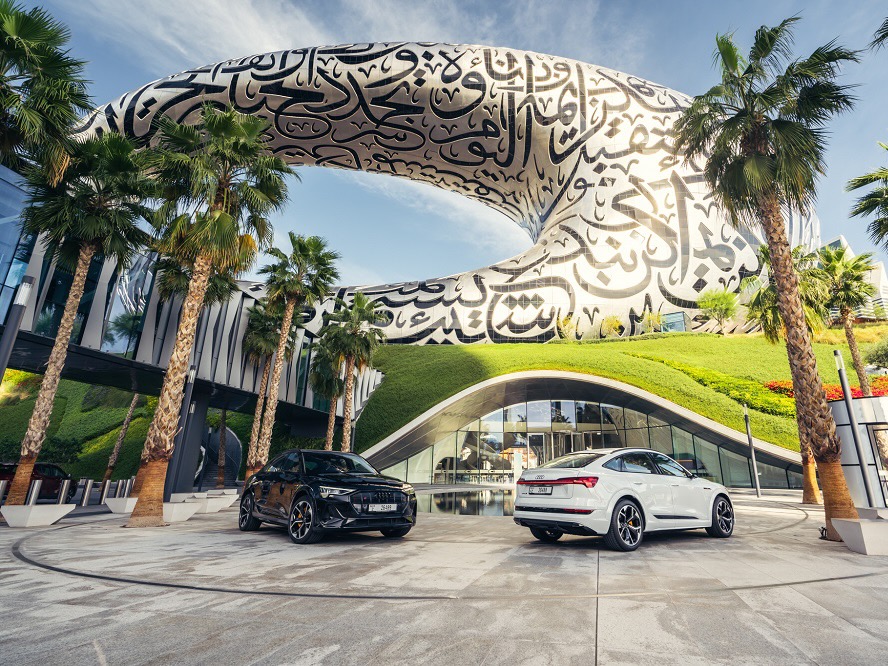 Audi continues its electrifying partnership with the Museum of the Future
Read Time:
1 Minute, 58 Second
Audi Middle East recently delivered two new Audi e-tron Sportbacks to the Museum of the Future in continuation of their future-focused partnership. The all-electric vehicles will transport esteemed guests of the Museum in a sustainable fashion. The collaboration is further supported by the installation of 21 Audi charging stations in the Museum's parking facilities aimed at boosting electric mobility across the United Arab Emirates.
The partnership between Audi Middle East and the Museum of the Future has just celebrated its first year. In tandem to the facilitation of a sustainable on-site e-mobility infrastructure, Audi Middle East has showcased numerous progressive concept cars that could inhabit the roads of tomorrow. The partnership will continue to engage those who come together for a better tomorrow and move toward a shared objective to achieve the UAE Net Zero strategic initiative by 2050.
Guests of the Museum who travel in the Audi e-tron Sportback can expect a dynamic electric drive with zero compromises to luxury and performance. The expressive exterior rightly alludes to intelligent driving control and comprehensive handling. Through innovative driving technology, an impressive e-tron range, and an ever-expanding charging infrastructure, Audi Middle East continues to build an expansive e-mobility offering in the region.
Majed Al Mansoori, Deputy Executive Director of the Museum of the Future, said: "In line with the Museum of the Future's commitment to sustainability and clean energy, we are happy to further enrich our partnership with Audi Middle East. As a world-class sustainability model in futuristic creativity, we are aligned with the UAE leadership's directives to promote sustainable development. Using such modern and sustainable concept cars to transport our guests will go a long way in achieving the UAE's Net Zero strategic goals by 2050."
Carsten Bender, Managing Director of Audi Middle East, said: "It is great to see the Audi e-tron Sportbacks in use at The Museum of The Future, along with the EV charging installation, which both bear testimony to Audi's mission to prepare the region's infrastructure for an electric future even further. The creation and investment in this premium charging hub at the most beautiful building in the world offers a supremely central location in the city as well as giving users a truly futuristic experience as EV drivers."