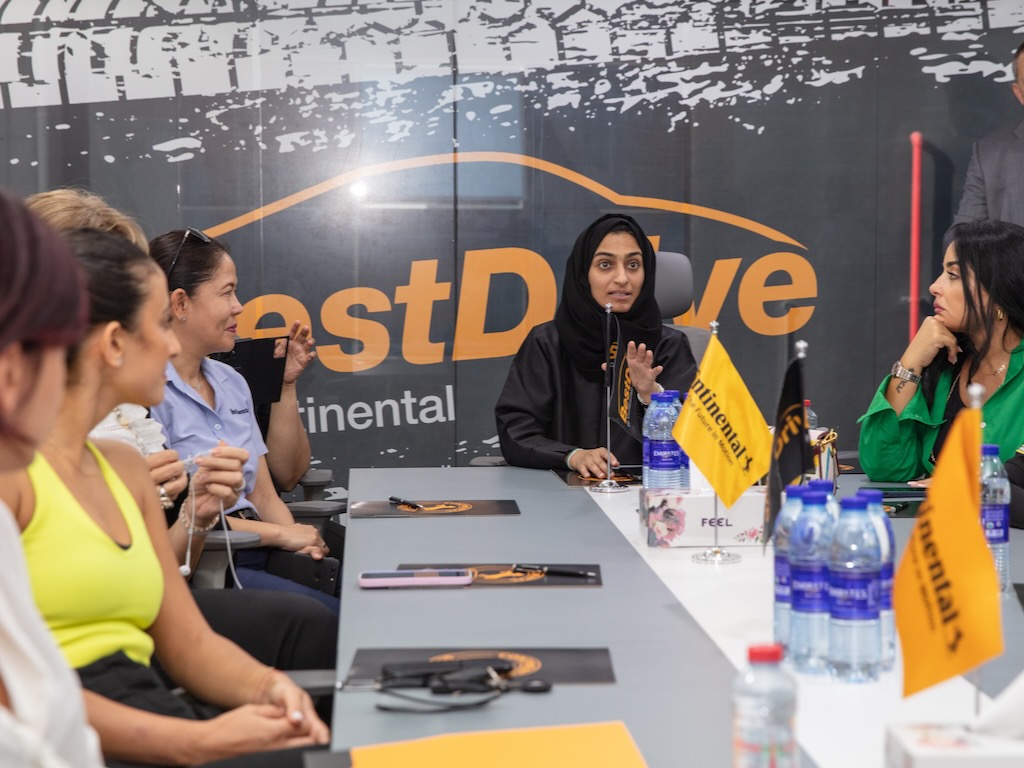 CONTINENTAL PARTNERS WITH HUDA M. AL MATROUSHI TO PROMOTE CAR SAFETY AND MAINTENANCE AMONG WOMEN
Read Time:
2 Minute, 15 Second
Continental recently partnered with Huda M. Al Matroushi, the first female Emirati car mechanic, to spread awareness among women on key automotive safety topics, including how to deal with on-road emergencies and basic car maintenance. The collaboration is part of Continental's global commitment to empower women, and to achieve its Vision Zero goal: Zero Fatalities, Zero Injuries, Zero Crashes.
Al Matroushi, who has created history undertaking her personal automotive journey, led a female-focused educational workshop that delved into her remarkable achievement in what has been a traditionally male-dominated industry. Attendees also received a comprehensive introduction to essential car maintenance and the importance of tyre safety. The workshop fostered a vibrant exchange of personal experiences and shed light on the evolving landscape of the industry.
Commenting on her involvement with Continental, Al Matroushi said: "Inspiring women to take charge of their vehicles and ensuring their safety on the road is a mission close to my heart. Together with Continental, we are looking to break barriers and shatter stereotypes, ensuring that women can excel in any field they choose. Through knowledge and skill, we're driving towards a future where every woman feels confident and empowered behind the wheel."
The partnership with Al Matroushi is one of a number of unique initiatives undertaken by Continental across the Middle East in achieving its Vision Zero goal. The brand has partnered with influencers, educational establishments, driving institutes and government organisations to instil these key messages in current and future drivers across the region.
"At Continental, safety takes precedence as our utmost priority, and we wholeheartedly endorse ground-breaking initiatives that foster a robust road safety culture throughout society. Our enduring partnerships with different stakeholders across the region provides us with the perfect team to help us achieve our Vision Zero objective in unique and engaging ways. Moreover, we strive to inspire women to assume pivotal roles in driving forward this safety-oriented culture," remarked Karel Kucera, Managing Director of Continental Middle East.
Following the informative workshop, attendees had the chance to immerse themselves in a state-of-the-art AI Driving Hub. Created by AI Driving Metaverse Group, this cutting-edge simulator harnesses artificial intelligence to analyse the psycho-physiological characteristics of drivers, utilising biometric and sensor data, a Digital Twin, patented motion platform, and customisable road scenarios.
"We have been part of the Continental family for many years and BestDrive supports the brand's unwavering dedication to safety and women's empowerment, as we prioritise the safety of our customers through our products and services, while also offering ongoing support to all community groups," said Shaun Smith, Group General Manager, Al Masaood & Sons Automotive.