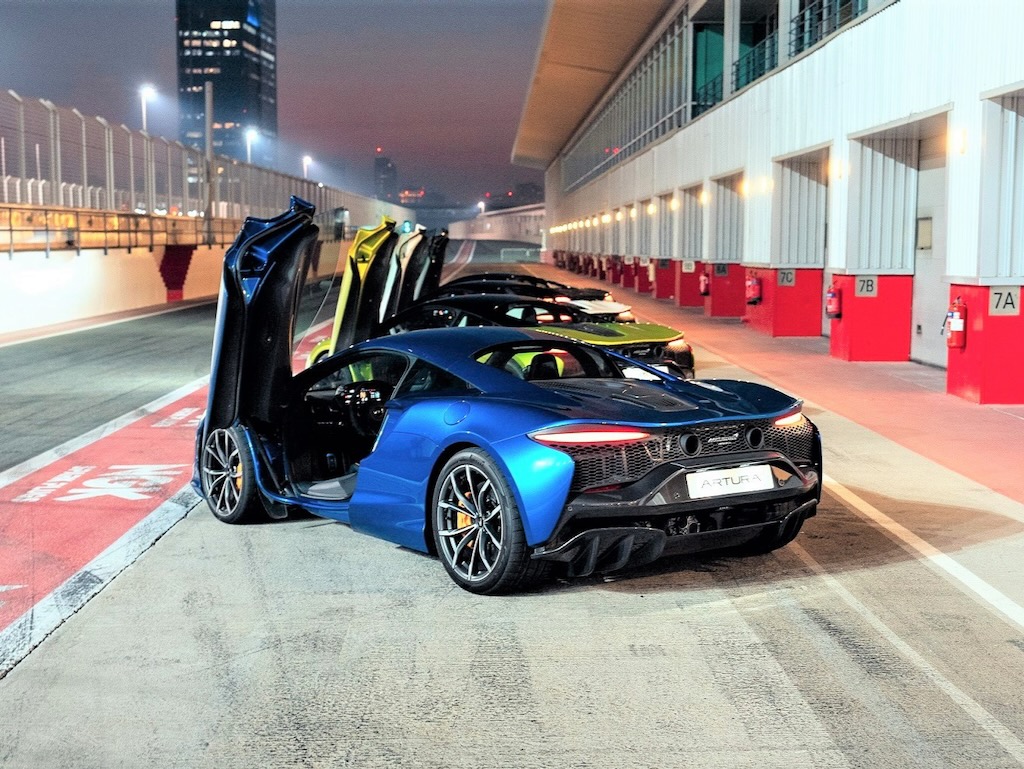 McLaren Artura impresses UAE car fans before initial deliveries
Read Time:
2 Minute, 53 Second
The McLaren Artura has passed a big test with flying colours at Dubai Autodrome, with customers hailing the petrol-electric hybrid as a supercar made to measure for the UAE, ahead of first deliveries later this month.
McLaren Dubai say its first clients to test drive the Artura believe it ticks more boxes than any of its rivals, and are particularly impressed by the performance from the luxury supercar maker's first V6 engine.
High fuel efficiency, advanced driver assistance systems, and technical innovations are seen as some of the other key factors making the Artura ideally suited for UAE driving.
The brand's retail partner in the UAE, with responsibility for Dubai and Northern Emirates, staged back-to-back test days to let customers put the Artura through its paces at Dubai Autodrome this week.
"The overwhelming verdict was that the Artura is made to measure for this market," said Mazen Al Nashar, General Manager of McLaren Dubai, represented by Performance Tuning L.L.C., part of The Khalifa Juma Al Nabooda Group of Companies.
"Our first customers to test drive the car have been hugely impressed with its petrol-electric hybrid motor, which enables performance and sustainability at the same time"
Part of the Artura's appeal lies in its ability to run in pure EV mode, while a top speed of 330km/h and acceleration of 0-100km/h in just 3.0 seconds make it one of the fastest supercars on the market.
"It's a car combining advanced aerodynamic efficiency, ultra-light supercar engineering and blistering electrified power for an intense driving experience," said Al Nashar.
"At the same time, the Artura is the most fuel efficient McLaren ever produced, with CO2 emissions of just 104g/km. It's very welcome in a country where the government's goal is to reduce carbon emissions by 31% by 2030. If a car is thrilling to drive, it should also blend in completely with our environment."
Tech-savvy UAE supercar buyers in a market which is a hub for innovation and advanced technology love the Artura's high-resolution touchscreen and voice recognition, and its infotainment system – a big favourite among those who tested the car at Dubai Autodrome.
Others are especially impressed by the Artura's advanced driver assistance systems, such as lane departure warning and adaptive cruise control, making it a pleasure to drive on the UAE's busy roads and highways.
Another popular feature is the compact e-motor, giving instant torque and improved throttle response for relaxed every day driving in downtown Abu Dhabi and Dubai.
Yesterday, the Artura was revealed to another audience at the Ritz-Carlton Dubai International Financial Centre, launching a week-long collaboration offering the hotel's VVIP guests the chance to test drive the supercar.
Christian El Khoury, General Manager of Ritz-Carlton DIFC, said: "It is a great honour to collaborate with a luxury brand like McLaren providing our Elite Guests the ultimate experience. McLaren is all about luxury and speed, and here at The Ritz-Carlton DIFC we create memories with a touch of luxury at an impressive speed"."
Available to order now from McLaren retailers, the McLaren Artura comes with a standard three-year service plan, five-year vehicle warranty, six-year battery warranty and 10-year body warranty. For more information on the all-new McLaren Artura, please visit: https://cars.mclaren.com.