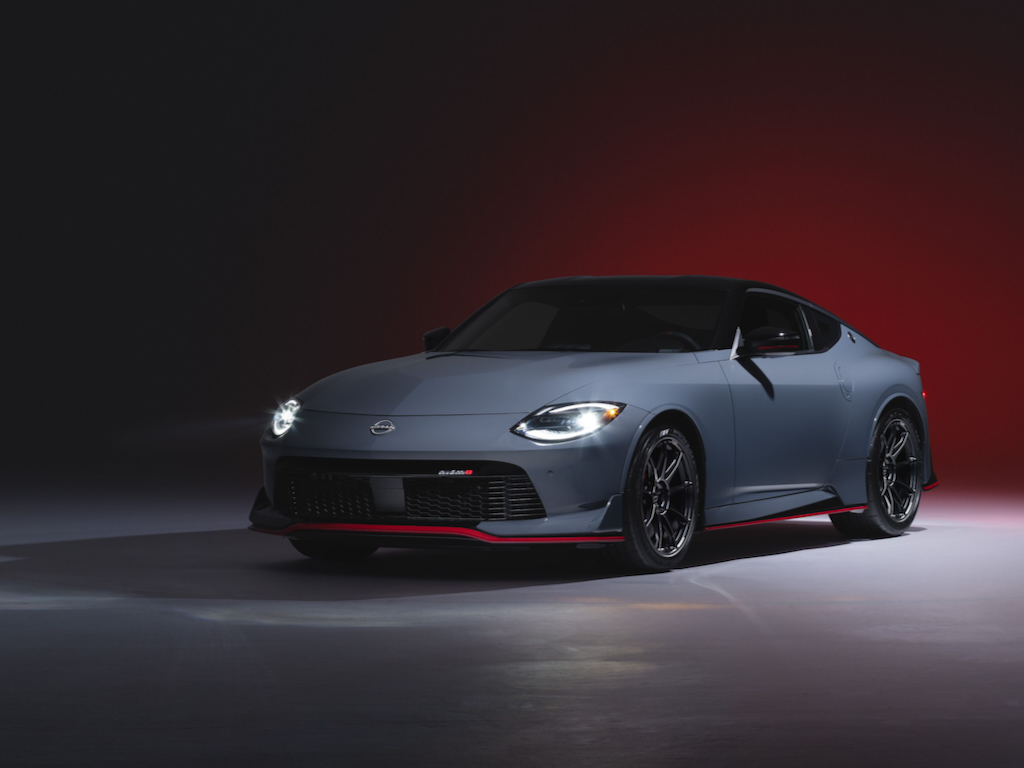 New 2024 Nissan Z NISMO: Amplifying the sports car experience
Read Time:
5 Minute, 28 Second
The 2024 Nissan Z doubles down on thrilling performance with the return of Z NISMO, delivering an exhilarating track-ready experience for enthusiast drivers. The NISMO grade builds on the capabilities of the Nissan Z for those who seek more excitement and dynamic performance. Targeted enhancements amplify the precisely tuned Z to excite drivers of all abilities.
Z NISMO elevates the iconic sports car's performance with additional horsepower and torque, NISMO-tuned suspension and brakes, revised aerodynamic bodywork, stiffened suspension, and wider wheels with a more aggressive tire compound.
Building on the equipment offered on the Nissan Z, interior enhancements include red-anodized engine-start and drive mode buttons, manual-adjust Recaro seats and a leather and Alcantara-wrapped steering wheel with a red marker at the 12 o'clock position.
Exterior revisions to Z NISMO were specifically engineered to improve aerodynamic performance on the racetrack. As a result of the changes, Z NISMO produces positive downforce.
The front of Z NISMO prominently features a styling element called the "Grand-Nose" or "G-Nose," which extends farther forward than on other grades and recalls a similar design treatment on the heritage Nissan Fairlady 240ZG.
The new front fascia also features a restyled grille opening with the thinnest honeycomb mesh of any Nissan production car. That mesh grille balances the need to reduce drag with permitting cool air to the engine bay. Canards at the car's front corners create vortexes over the front wheels, further benefiting aerodynamic performance. A subtle red accent runs along the lower edge of the front fascia.
Complementing the G-Nose is a taller, wider rear spoiler with a three-piece design that extends onto the rear fenders. The rear bumper corners are reshaped to aid with air separation and reduced drag; their shape is inspired by that on GT-R NISMO. A red accent runs from the lower edges of the rear fascia and above the exhaust outlets. Z NISMO's redesigned side sills also help reduce aerodynamic drag and lift.
Above the window line, Z NISMO further stands apart from other grades with a dark metallic gray version of the car's signature katana-blade styling element. Additionally, it has a black-painted roof and gloss black 19-inch RAYS®wheels.
Z NISMO's bodywork is available in a choice of five colors: Black Diamond Pearl, Brilliant Silver, Passion Red TriCoat, Everest White Pearl TriCoat and NISMO-exclusive Stealth Grey.
Elevated interior
Nissan designers carefully enhanced the cabin of Z NISMO to amplify visual appeal without creating unnecessary visual "noise." The engine start/stop and drive mode selection buttons are anodized red. The graphics in the fully digital TFT meter display feature a red outline around the tachometer, a NISMO logo and a special red "flash" during the start-up animation.
Helping to secure the driver and passenger in place are Recaro seats finished in a combination of leather and Alcantara, with a red center section and NISMO logos in the headrests. A new steering wheel features leather and Alcantara trim, with a sporty, racing-inspired red accent mark at the 12 o'clock position.
Targeted enhancements to twin-turbo engine
Z NISMO takes the twin-turbo engine's power outputs up to 420 horsepower and 520 NM of torque. Peak torque is delivered from 2,000 through 5,200 rpm, ensuring drivers have strong performance across the rev range.
The engine's horsepower enhancements were achieved through a combination of improved cooling, revised electronic wastegate control providing increased turbocharger boost and turbine speed, and an independent ignition spark timing strategy inspired by GT-R NISMO.
Z NISMO also features an enhanced engine oil cooler for extended track performance.
More dynamic shifting with Sport+ mode
Z NISMO exclusively uses a nine-speed automatic transmission that has been enhanced for faster and more dynamic shifting performance, with a particular focus on suitability for track use. Compared to the transmission in other Z grades, it has revised clutch packs allowing for faster shifting. Along with revised engine management software, Z NISMO's transmission has reduced downshift time by almost half. Launch control also delivers more aggressive standing-start acceleration.
In addition to Normal and Sport, Z NISMO adds a new Sport+ drive mode. This delivers a more dynamic, racetrack-tuned shift program for circuit driving, taking advantage of the powertrain's faster downshift capability. The shift programming is designed to be so responsive for performance driving that a driver does not need to use the shift paddles on track – though fast-responding manual shifting is always available.
Enhanced suspension and tires
NISMO engineers revised every element of the car's suspension to optimize precision, predictability and cornering grip. Z NISMO has unique stabilizer bars, a stiffer spring rate and larger, retuned dampers. The overarching tuning ethos was to deliver accurate, "one-shot" steering that helps drivers to pick their line through a turn with a minimum of steering adjustment needed, contributing to confident track-ready performance.
To deliver maximum road feel and traction, Z NISMO wears Dunlop® SP SPORT MAXX GT600 tires, a version of which are also used on GT-R. The rear tires measure 10 millimeters wider.
The tires are fitted to lightweight, NISMO-specific, gloss black RAYS 19-inch wheels. Although the wheels are 0.5 inch wider than the 19-inch wheels on Nissan Z, their advanced construction means the NISMO-specific wheels are slightly lighter.
Stiffened chassis
Comprehensive chassis revisions to Z NISMO begin with bracing and stiffening measures that help the car faithfully track and respond to the increased cornering forces enabled by Z NISMO's tires. Enhancements include additional front, rear and rear underfloor bracing, helping increase torsional rigidity by 2.5% compared to the standard grades. Stiffer front and rear suspension bushings, and a stiffer mounting bushing for the steering rack, further increase lateral rigidity.
Track-enhanced brake system
Engineers enhanced the Z NISMO braking system, upgrading the front brakes to larger, 15.0-inch rotors matched to 13.8-inch rear brake rotors, and equipping a more performance-focused brake pad compound. The changes are intended to improve Z's impressive brake pedal feel and enhance braking performance in extended track use scenarios.
2024 Nissan Z keeps sports car excitement alive
All 2024 Nissan Z models include a range of standard driver assistance and safety technologies, including Automatic Emergency Braking with Pedestrian Detection, Blind Spot Warning, Lane Departure Warning, Rear Cross Traffic Alert, High Beam Assist and Intelligent Forward Collision Warning.