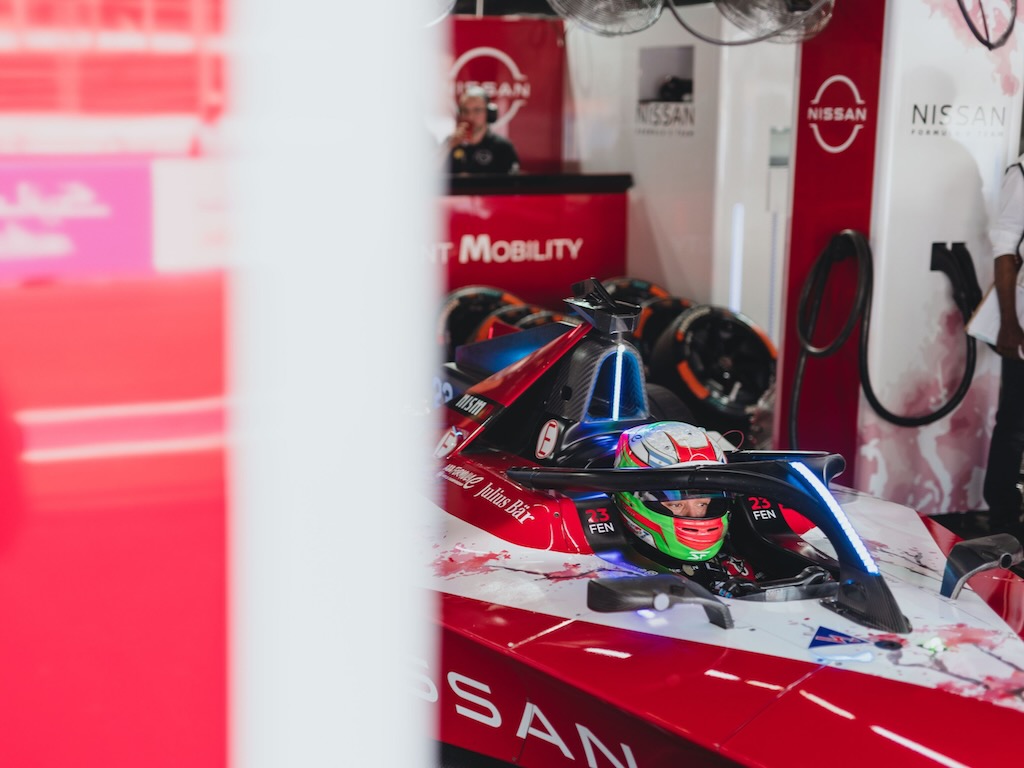 Nissan Formula E Team in the points despite bad luck in Hyderabad
Read Time:
3 Minute, 2 Second
Nissan Formula E Team secured points in the first-ever Hyderabad E-Prix, with Norman Nato taking seventh in a chaotic race. Meanwhile, Sacha Fenestraz had podium hopes, running in fourth before being caught up in an incident and working his way back up to 12th in Round 4 of Season 9.
Having started 14th, Nato continued to prove the strong race pace of the car. Despite being hit and forced to pit midway through the event with a puncture, the Frenchman came back through the field to secure seventh and his first points for the team, plus a bonus point for the fastest lap of the race.
Fenestraz impressed again in qualifying, progressing to the Duels for the second time this season. He narrowly missed out on making it through to the semi-finals, but started the race fourth due to track limits penalties for other drivers.
A strong launch saw the Franco-Argentine challenging the top-three in the early stages, before being unluckily caught up in an incident and losing several positions, recovering to 12th.
"We never look for excuses when we don't perform but this time the team did a perfect job throughout the weekend, apart from one little issue in qualifying with Norman," said Tommaso Volpe, managing director, Nissan Formula E Team. "Both drivers put up a strong fight in the race, with Sacha challenging for the podium and Norman recovering several positions. Unfortunately Sacha was prevented from taking a great result through no fault of his own. He definitely had the potential to score a lot of points today. Norman put in a brilliant drive, making up several positions despite a pit stop to finish P7. We know we have a quick car, so we'll look to be back in the fight at the front in Cape Town."
Driver Quotes
Sacha Fenestraz
"The overall feeling is frustration as we had a massive chance for a podium or at least a top-five finish. It's difficult to swallow but this is racing and we know the performance is there. Qualifying was good, it was my second time in the Duels this season and I think we could've made it through, but I made a mistake at Turns 1 and 2 and we just missed out. Despite that, P4 was still a really good starting position and we were looking strong in the race. We put everything together although in the end, it was out of our hands. Now we just need to keep our heads down and move forwards, we have a good car and a great team, we've been progressing really quickly and I'm sure the results will come soon."
Norman Nato
"I'm happy to score my first points of the season but I still feel like it could've been more today. Halfway through the race, we were running in the top-10 before I was hit and got a puncture, meaning we had to pit. That cost us a lot of time and positions so the fact that we recovered to finish seventh shows how good the car and the strategy were. The Safety Car came at the right time for us, but I still had to manage the race and stay out of trouble to regain the places lost. We still have areas to improve on, especially in qualifying, however the car is fast and if we can qualify closer to the front then we have the potential to score some big points. Now we look forward to Cape Town and continuing our development there."