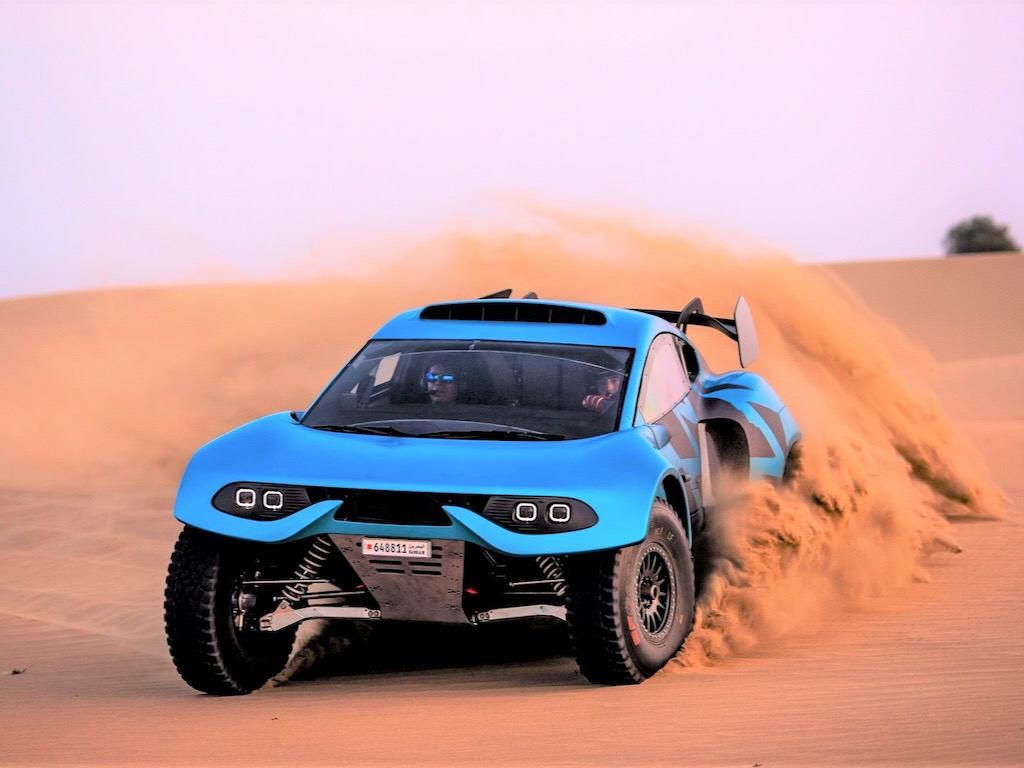 Supercar arrival, the Prodrive Hunter adapts to both the desert and the city
Read Time:
2 Minute, 16 Second
Every supercar launched in the GCC markets has its own unique selling points, but the latest arrival is the only one which is equally at home among the dunes of the Rub Al Khali, as it is downtown.
The Prodrive Hunter, the world's first all-terrain hyper car, goes where none of its competitors, past and present, could ever go, as prospective buyers will have an opportunity to testify later this month.
Ultimately, buyers could include police and government authorities in the region. Talks have already taken place about the Hunter being used as a high-speed desert rescue and border patrol vehicle.
The 600 bhp, four-wheel drive Hunter is born from the original racing machine which was developed to tackle the world's most demanding motor sport event, and currently leads the 2023 World Rally-Raid Championship.
The two versions of this remarkable vehicle share the stage when the Abu Dhabi Desert Challenge, second round of the championship, roars to life on 26th February, and it promises to be quite a show.
While Sebastien Loeb goes all out in his rally Hunter to win the event for Bahrain Raid Xtreme, the street legal hypercar will show its prowess to invited customers across the same dramatic desert landscape, and on the roads leading there.
It promises to be a thrilling ride. In January's legendary Dakar Rally, the toughest race on earth, Loeb's BRX Hunter broke a 34-year-old record, winning six timed competitive stages in a row in Saudi Arabia.
In fact, the Hunter took nine stages out of 14 overall, and was particularly dominant when the route swept into the Empty Quarter, as the cars will do in the Desert Challenge.
"Of course, my job is to win rallies, but at the same time I'm aware that, every time we compete we're showing people what you'll get from the hypercar," said Loeb, the nine-time World Rally Champion.
"Only my co-driver (Fabian Lurquin) gets to ride with me in the rallies. But I look forward to showing some customers why the street legal Hunter is just as exciting, and even more powerful."
The rally feedback from Loeb and Lurquin helped Prodrive, the motor sport and advance technology specialists, develop the new road going Hunter.
With 50% more power than the rally-bred version, a limited number are being built in the UK to the individual specifications of select super car enthusiasts. The vehicle accelerates from 0-100 kph in less than four seconds, and has a top speed of around 250 kmh. It also has a comfortable cruising speed for drives downtown.