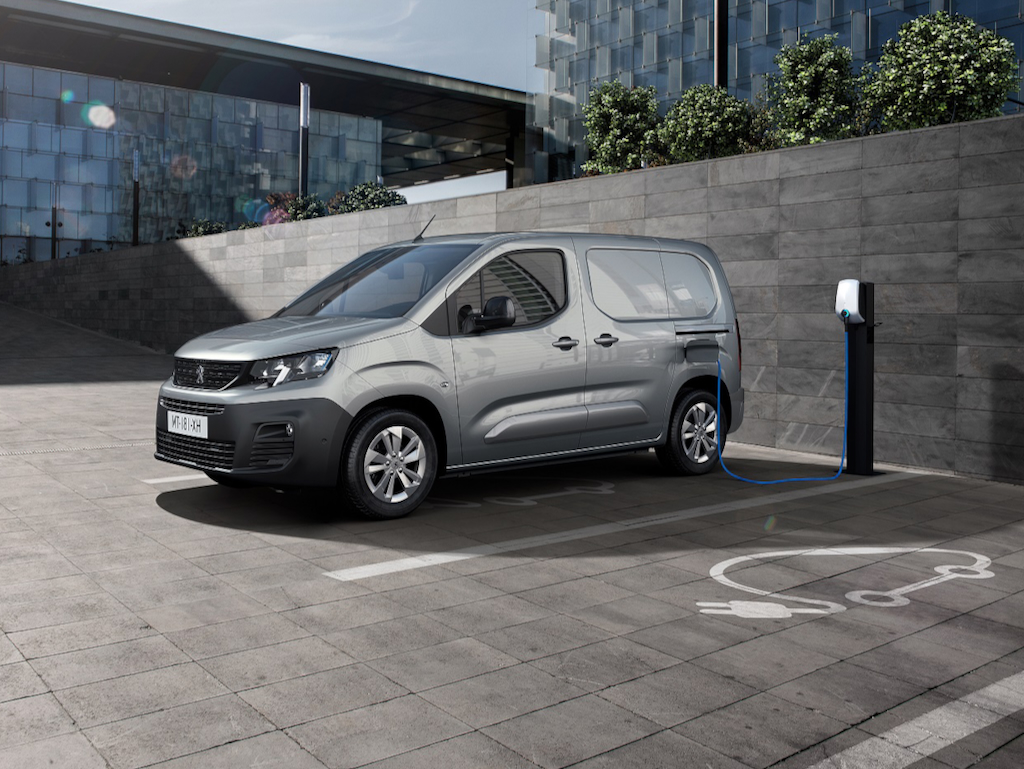 PEUGEOT Abu Dhabi & Al Ain Delivers its First Fully Electric LCV in Abu Dhabi
Read Time:
4 Minute, 25 Second
PEUGEOT, a global leader in automotive innovation, today announced the delivery of the PEUGEOT E-Partner – the first fully electric light commercial vehicle (LCV) to be launched in the UAE – from its local dealership PEUGEOT Abu Dhabi and Al Ain, the automotive division of Omeir Bin Youssef & Sons, to Abu Dhabi based sustainability company, EMOB.
PEUGEOT's first LCV customer in Abu Dhabi, EMOB, specialises in bringing electric vehicle (EV) charging services directly to drivers' doorsteps, making EV charging convenient and accessible. The PEUGEOT E-Partner, known for its exceptional performance and eco-friendliness, was selected as the optimal choice for EMOB's operations following an extensive market survey.
As part of PEUGEOT's and its local dealer Omeir Bin Youssef & Sons commitment to sustainability, the automotive manufacturer has embraced a greener approach with the launch of its fully electric light commercial vehicles (LCVs) – the E-Partner and the E-Expert, across the Gulf Cooperation Council (GCC) markets. This positions PEUGEOT as the regional first mover, and the only manufacturer to offer fully electrified light commercial vehicles in the region. Using commercial electric vehicles in cities and communities delivers benefits including zero noise, zero emissions and zero odours – which is enough to radically change the lives of users and their surroundings.
The PEUGEOT E-Partner combines outstanding performance with eco-friendliness. It features a powerful electric propulsion system that delivers impressive acceleration and a smooth driving experience. The E-Partner ensures businesses can cover their daily operations efficiently. The spacious cargo capacity allows for easy transport of goods, while the advanced safety features provide peace of mind on the road. Additionally, the E-Partner offers fast charging capabilities, enabling businesses to minimize downtime and maximize productivity.
The delivery ceremony of the first PEUGEOT E-Partner was attended by Mr. Mubarak Al Mansoori, CO founder of EMOB Mr. Ahmed Abdelmonem, the sales supervisor of PEUGEOT Abu Dhabi, who played a pivotal role in facilitating the partnership and ensuring a seamless handover as well as Fredrick Vimal, a senior executive from Stellantis Middle East.
"We are proud to partner with EMOB and deliver the first PEUGEOT E-Partner to support their innovative EV charging services," said Mr. Syed Mohammed Shaheen Adeeb, General Manager of PEUGEOT Abu Dhabi & Al Ain, the automotive division of Omeir Bin Youssef & Sons. "The E-Partner is an excellent choice for EMOB due to its reliability, efficiency, and eco-friendly nature. We are proud to be a part of their journey of promoting more sustainable transportation solutions."
As a part of its commitment to sustainability and promoting electric mobility, EMOB will incorporate additional PEUGEOT EVs into its fleet alongside the PEUGEOT E-Partner.
"We are proud of our partnership with PEUGEOT and its local dealer, Omeir Bin Youssef & Sons, in Abu Dhabi and Al Ain; receiving the first PEUGEOT E-Partner in the Emirate of Abu Dhabi is a proud moment for us," said Mr. Mohammed Metwaly, Co-founder of EMOB. "By adding this electric vehicle to our fleet, we are taking a significant step towards fulfilling our mission of providing convenient EV charging solutions directly to consumers. The PEUGEOT E-Partner 's range, performance, and practicality perfectly align with our requirements."
Commenting on the partnership, Yury Duzhinkov. Brand Director of French Brands, Stellantis Middle East, said: "In 2022, PEUGEOT led the European market in the B segment of 100% electric vehicles in all categories – passenger cars and LCVs, and we are committed to delivering our bold targets for electrification in the Middle East. Through our partnership with EMOB, we are pioneering a new, greener future for logistics in the region. Together we share a common commitment to building a more sustainable future for mobility and have pledged to meet carbon net zero targets which will benefit our communities and future generations."
Duzhinkov added, "This is a true testament to our commitment to electrification in the region and underscores our ambition to being industry champions in climate change mitigation."
The PEUGEOT E-Partner is a versatile and powerful electric utility vehicle. It offers a range of up to 285 km on a single charge and comes in two lengths: Standard and Long (with a focus on commercializing the long version for the E-Partner). It has a towing capacity of up to 750 kg, a payload of up to 800 kg, and a loading volume of up to 4.4m³.
Equipped with advanced on-board technologies, including the PEUGEOT digital i-Cockpit®, the E-Partner provides an enhanced driving experience. Built on the EMP2 (Efficient Modular Platform), it houses a 100% electric engine with a maximum power of 100 kW and a maximum torque of 260 Nm. The E-Partner features a lithium-ion battery (18 modules) with a capacity of 50 kWh, enabling fast charging capabilities. With various charging modes, it can be fully charged in as little as 5 hours using an 11 kW Wall Box.
Designed for adaptability, the E-Partner combines compact external dimensions with maximum loading capacities. Retaining the style and practicality of the internal combustion versions, it offers a range of driving modes to cater to different needs. Additionally, the E-Partner prioritizes safety and comfort, incorporating advanced driving aids and providing connectivity options.