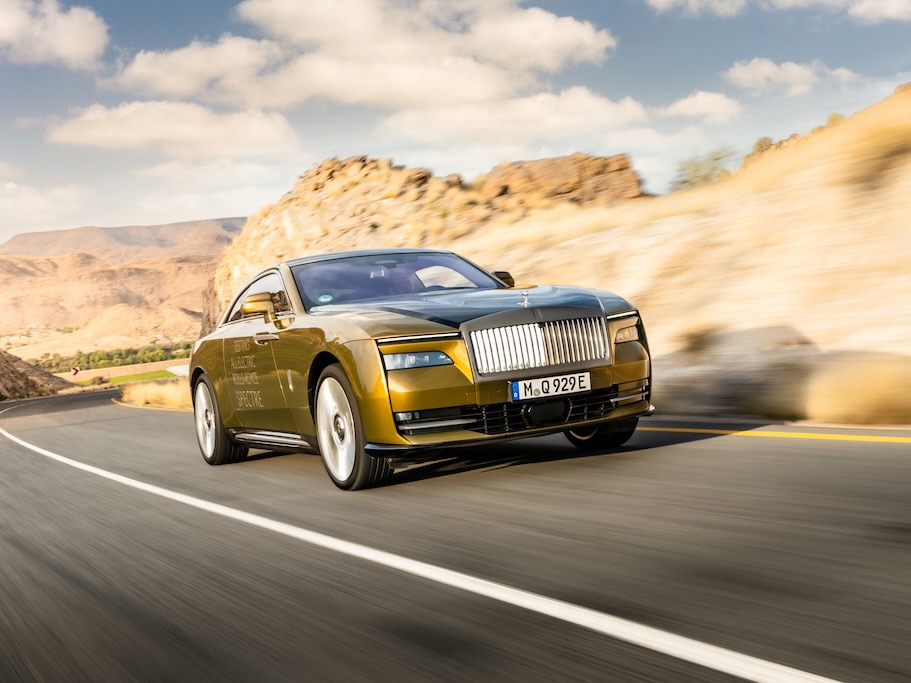 Spectre Approaches 2 Million Kilometer Mark in Global Testing
Read Time:
5 Minute, 54 Second
Spectre, Rolls-Royce's genre-defining all-electric super coupé, has now covered almost two million kilometres as it completes the third phase of the most rigorous testing programme ever devised in the marque's 118-year history. This has already surpassed every Rolls-Royce testing programme before it – and it is still far from over.
Spectre is currently undergoing extreme hot weather tests in two locations in South Africa: Augrabies in the Northern Cape; and Franschhoek, the 'French Corner' in the Western Cape winelands. The stable yet contrasting climates provide some of the finest summer-weather driving in the world, with dry and extremely hot conditions in the north and more humid, Mediterranean-style, conditions in the south. At its hottest, temperatures can exceed 50°C, while the southern region hosts a great variety of surfaces and terrains, including twisting country roads replete with gravel, dust and dirt. Truly testing conditions, by any measure.
During this stage, engineers are observing and refining every system, hardware item and software protocol that has been developed over the course of almost two million kilometres of continuous testing. Only through such painstaking assessments can Rolls-Royce's technical experts achieve the exacting levels of ride refinement that are so central to the experience beloved by clients, and successfully translate the marque's defining 'Magic Carpet Ride' to the new all-electric paradigm.
Throughout Spectre's testing, each of the motor car's 25,000 separate performance-related functions have been meticulously tailored to deliver a quintessentially Rolls-Royce experience. The refinements being made now follow the principles of 'marginal gains', in which individual, very small and incremental adjustments cumulatively produce a significant overall improvement. Though widely used and proven in elite sport and high-level business, this theory is being used during Spectre testing to an unprecedented extent, as part of the wider validation process characterised internally as the Rolls-Royce Finishing School.
Examples of the meticulous attention-to-detail that Spectre prototypes are being subjected to are manifold but often impossible to quantify, as they represent the judgement and instinct of the marque's peerless and long-standing engineering elite. For example, over 1500 hours have already been dedicated to finessing the car's regenerative braking to ensure it feels effortless but present. Data-logging equipment processes sensor inputs generated by this braking force, to ensure that adjustments do not compromise the overall serenity of Spectre under any driving conditions. However, it is only the experience and judgement of long-standing Rolls-Royce engineers that can ensure the motor car will, when testing is completed, meet the inimitable standards required to deliver an elevated expression of the Rolls-Royce experience.
Similarly, anti-roll stabilisation is being tuned to reflect the dynamic promise of Spectre's dramatic super-coupé design while still delivering on the marque's hallmark 'Magic Carpet Ride' qualities. In South Africa, this testing has specific significance as high temperatures can alter the hardness of rubber suspension components, providing a parameter that is bookended by the results of extreme cold weather testing.
This exhaustive approach has also been applied to ensuring the correct colour-quality and brightness for the theatre of light that is prompted by opening Spectre's coach door. To ensure a sense of harmony in the cabin, whatever the external light conditions, all internal illuminations, including the marque's celebrated Bespoke Starlight Headliner, instrument cluster and SPIRIT interface, must be perfectly coordinated. This requires detailed analysis of a global range of sunlight exposure and types, to ensure consistency of colour-quality wherever in the world Spectre is.
As the car approaches the later phases of its exhaustive testing programme, further adjustments will be made to sealing materials to deliver Rolls-Royce's famed aero-acoustic performance. This process is essential because rubber sealing materials perform differently through the spectrum of temperatures. For example, during Spectre's testing phase at Arjeplog in Sweden, seals hardened in sub-zero temperatures. Conversely, in South Africa, Rolls-Royce engineers will be assessing the acoustic performance of seals softened in hotter conditions. Their work is therefore to find optimum balance to ensure the cabin is insulated in all extremes of climate.
In South Africa and throughout the remaining programme, the audio system will also be tuned and finessed to achieve fractional gains in the quality of the sound offered through Spectre's 17 speakers. Following initial testing and calibration in a laboratory setting, the system is now being tested exhaustively in real-world conditions. A specially curated playlist presenting a wide range of genres to represent a full spectrum of sonic requirements is used.
This commitment to ensuring perfect acoustic performance extends to the key functions of the motor car. Indeed, even the speed at which the self-closing coach doors shut is being scrutinised to ensure that the perfect level of positive noise is generated upon closure.
ROLLS-ROYCE SPECTRE: THE EXTRAORDINARY UNDERTAKING NEARS COMPLETION
When the experience and data collected from South Africa has been fully analysed, and relevant actions and measures have been implemented, Spectre's testing programme will be around 80% complete as it sets off on the final ratification phase. This consists of taking the motor car through a condensed programme of 'all-season' testing, including return visits to the Arctic extremes of Arjeplog and the more temperate conditions of the Côte d'Azur.
The final 500,000 kilometres of Spectre testing will focus on Lifestyle Analysis. This proprietary testing process will see Spectre tested in super-luxury situations and use-cases specific to Rolls-Royce clients, to ensure Spectre performs as required in the centre of global megacities, around new and historical luxury destinations, and in other settings commensurate with owners' needs, habits and lifestyles.
ROLLS-ROYCE SPECTRE: TESTING BACKGROUND
Ahead of the first cars being delivered to clients, scheduled for the fourth quarter of 2023, Spectre has undergone exhaustive trials designed to replicate almost 400 years of normal use, in some of the most extreme conditions on Earth. In total, the car will cover more than 2.5 million kilometres – the equivalent of circumnavigating the globe 62 times.
Testing began in the winter of 2021 at a special testing facility in Arjeplog, Sweden, just 55 kilometres from the Arctic Circle. In temperatures of -40°C, Rolls-Royce engineers examined and refined every aspect of Spectre's performance and handling in snow and ice, and any effects of prolonged extreme cold on the motor car's batteries and other electronic systems.
With this examination successfully completed, Spectre then spent the summer of 2022 in the sunnier, but no less exacting climes of the French Riviera and around the Côte d'Azur. This included testing at the historic Autodrome de Miramas proving ground, a former Grand Prix circuit that now provides over 60 kilometres of closed routes and 20 state-of-the-art test track environments. The majority of the testing, however, was conducted in the Provençal countryside, assessing Spectre's capabilities under real-world conditions in an area where many production cars are likely to spend their lives.