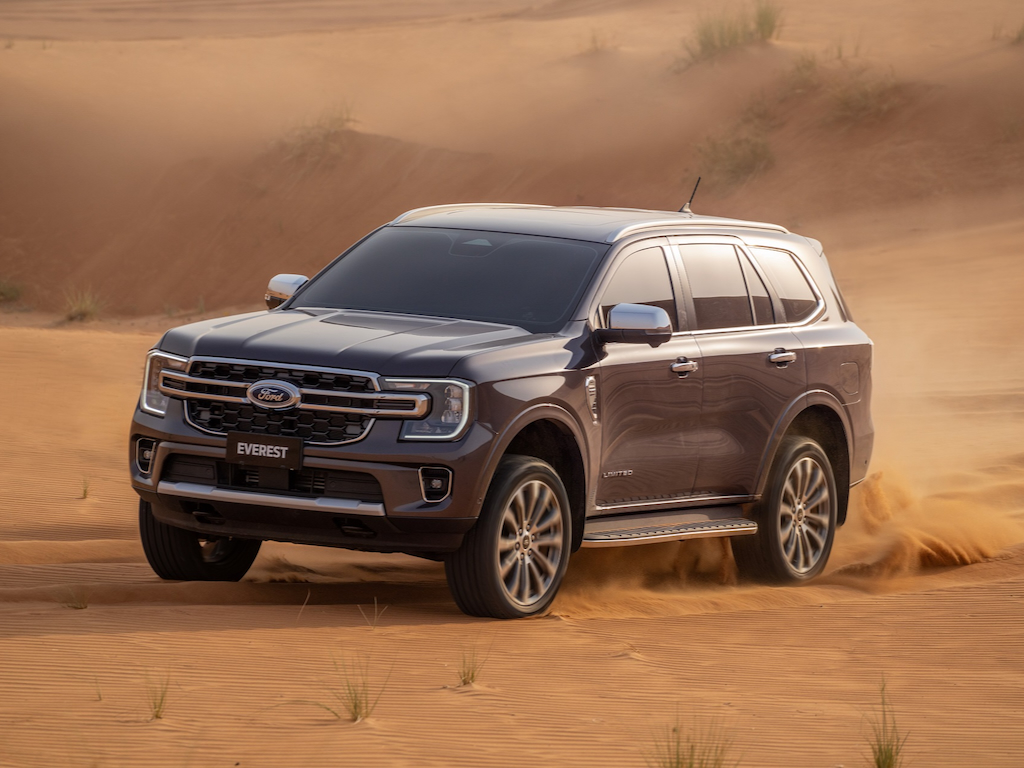 The Next-Gen Ford Everest Combines A Bold Exterior, A Tranquil Interior, And Adventure-Focused Engineering
Read Time:
10 Minute, 40 Second
The Next-Gen Ford Everest makes its Middle East debut for the first time ever, blending adventure-ready capability with exceptional comfort and customer-focused technology in a rugged, refined, and fun-to-drive SUV.
Engineered to excite, the Next-Gen Ford Everest has been built for the adventurous – with capability at its core. Inside, premium levels of craftsmanship have created a quiet and refined sanctuary for up to seven, while class-leading technology and safety features offer driver and passengers comfort and peace of mind on every journey.
"When we began imagining the Next-Gen Ford Everest, we started not at the beginning but at the end: With our customers," said Ian Foston, Chief Platform Engineer for Everest. "They're people who like adventure, recreation and being able to go out with family and friends. Whether they're conquering sand, rocks or city life, these customers appreciate the utility, capability and spaciousness of an SUV."
Armed with more customer input than ever before, Foston said the objective for the Next-Gen Ford Everest was clear: Tough on the outside, sanctuary on the inside, amazing capability underneath.
To showcase this, three trims of the Next-Gen Ford Everest were presented at the reveal; XLS, XLT and Limited. A range of different variants and models will be available, depending on the market, to meet the needs of Ford customers.
Rugged outside, a sanctuary within
Everest's wider track and longer wheelbase enabled designers to create a more progressive, muscular appearance. Ford's global design DNA is reflected in the C-clamp headlamps and strong horizontal upper grille bar. The front end also has a mix of horizontal and vertical elements which add to the stable appearance.
On the sides, there is a strong shoulder line front to back, while the wide track width results in a dramatic swell over the wheels, delivering a strong and modern look.
"We showed customers the Everest at several points during the design process and their feedback was consistent: They loved the exterior with the strong and rugged design, but they also thought it was sleek and modern" said Andrew Gregory, Brand Marketing Manager for Everest at Ford Middle East. "They said that the Everest would give them the confidence to go off-road; it looks like a proper SUV."
What customers wanted on the interior was a different story. Inside, they wanted a sanctuary.
"One of the first things you'll notice when you get into a Next-Gen Ford Everest is how quiet it is," Gregory said. "We've all been in vehicles with multiple rows of seats, where you have to twist your head around and almost shout to be heard by passengers in the second or third rows. That's an issue we wanted to solve for Everest, so the interior would be a quiet place in which you can easily talk to your family or friends and enjoy the journey together."
Designers also put a lot of thought into the function and feel of the interior, taking inspiration from modern homes and bringing in plush materials, premium finishes, and ambient lighting in areas customers will appreciate them best.
Everest's sense of spaciousness is amplified by the full-width coast-to-coast instrument panel and center console with dual cupholder recesses, plus dash-mounted 'pop-out' cupholders for front-seat occupants. The XLT and Limited trims are equipped with integrated wireless charging, while all series receive a svelte new leather trimmed e-Shifter, and an electric parking brake.
Access to the third row is much easier thanks to second-row seats that slide further forward than before. Additionally, all occupants now have places to store their things and depending on the model, charge their devices with power outlets in all three rows.
Ford has prioritized flexible seating in the Next-Gen Ford Everest; the second-row slides with a 60:40 split seatback and the 50:50 split third row can be folded at the touch of a button on high trim models. Importantly, both the second- and third-row seats have been designed to fold flat to allow for long loads to be carried safely.
To stop items falling out of the back when the tailgate is lifted, Ford's design team created a small lip, affectionately known as the "apple catcher" valley, at the rear of the cargo area. The team also created an underfloor storage space that helps keep the rear of Everest organized.
The Everest Limited trim further elevates the interior and exterior experience with a best-in-class Bang & Olufson 12-speaker system delivering premium audio ambient lighting and a dual-panel sunroof. On the outside, the Limited comes with exclusive 21-inch alloy wheels and a variety of chrome accents.
Customer-focused technology
In addition to a more refined and comfortable interior, Ford focused on incorporating the latest connectivity and technology features into the Next-Gen Ford Everest. It comes with an 8- inch digital instrument panel that replaces the traditional analogue cluster, in addition to large, high-resolution portrait 10.1-inch or best-in-class 12-inch touchscreens.
Next-Gen Ford Everest is loaded with Ford's latest SYNC4® A1 system, which comes customer-ready with its voice-activated communications, entertainment, and information systems.
The portrait-orientated 12-inch screen is linked to a 360-degree camera with split-view display to make parking a breeze in tight urban spaces or to assist when negotiating particularly tricky terrain while out exploring. In addition, customers can control Everest's new exterior zone lighting system via the touchscreen, which means they don't have to park, work, camp, or do anything else in the dark.
The XLT and Limited series include a wireless charging dock, allowing for cable-free top-ups of device batteries and a windscreen mounted USB port to keep your camera charged while videoing your adventures. Additionally, a cooled glove box features in every trim of the Next-Gen Ford Everest.
For drivers of the Limited series, the Advanced Automated Parking System makes it easier than ever to fit their Everest into even the tightest of spots. The system controls the steering, accelerator, transmission and brake – although the driver can take over at any time by applying the brakes or taking their finger off the Park Aid button.
New and proven engine line-up
Depending on the market, the Next-Gen Ford Everest gives customers a choice of two engines to suit their lifestyles. Starting with Ford's proven, 2.3L EcoBoost® Turbo petrol engine, mated to an efficient 10-speed SelectShift automatic which delivers Best-in-Class 296HP power and 420Nm of torque (more than any competitor V6).
Additionally, a 2.0L Single-Turbo diesel comes standard with a 6-speed automatic, supplying 168HP and 405Nm of torque providing strong low speed torque, great low speed throttle response and optimum fuel economy to meet the needs of the simplest to the toughest customer.
"Everest owners can be confident that they have the power and torque they need whether they're towing, going off-road or just embarking on a family adventure," said Gregory.
Engineered for adventure
With almost 20 years of history, the Everest nameplate has built a formidable reputation as a safe, trusted, capable, family SUV, winning a multitude of awards across the globe. A 50mm increase in Next-Gen Ford Everest's track helps deliver a more controlled ride on-road, while tweaks to damper settings allowed the team to inject more fun and control into Everest's handling, both on- and off-road.
"Everest was always well regarded for its plush ride on- and off-road handling, but the track increase allowed our dynamics team to create a greater connection between vehicle and driver, with a more controlled fun to drive ride around town and on the highway," said Foston.
Want to do some exploring? Next-Gen Ford Everest is ready to go, with a 4×4 system utilizing a 2-speed Electronic Shift On the Fly (ESOF) transfer case, underbody skid plates, a rear locking differential and off-road selectable drive modes plus two functional tow hooks upfront.
Where available, Everest's dedicated off-road screens display vehicle information and a front camera view of the terrain ahead, with predictive overlay guidelines designed to help the driver negotiate obstacles. With a single button press, the driver can view their driveline and diff-lock indicators, steering angle and guides as well as vehicle roll and pitch angles.
Next-Gen Ford Everest has a water wading ability up to 800mm and a maximum braked trailer towing capability of up to 3,100kg (braked)2, while space in the engine bay allows for a second battery to power aftermarket accessories.
Everest's impressive towing capability is supported by smart technologies that make towing easier. A dedicated tow/haul drive mode has been tuned to optimize gear shift timing to maintain the best power delivery and engine braking when carrying loads, either in a trailer or in the cargo area. Additionally, an available integrated electric trailer brake controller3 helps deliver smooth and effective control of a trailer's brake system. Everest's new camera views help owners guide their SUV into position to connect a trailer, while integrated SYNC® 4A features such as trailer connection checklist and trailer light check help make the job easier.
The new integrated or stand-off roof rails are more than just a design detail; they're engineered for adventure. The Everest rooftop can now support static loads of up to 350kg and dynamic loads of up to 100kg, providing increased versatility that enables it to carry bikes, kayaks, cargo pods, or roof-top tents. A universal mounting system allows customers to equip their vehicle with a range of accessories.
Confidence-inspiring driver assist technologies
Everest comes loaded with new and enhanced driver assist technologies and safety features that are designed to take the stress out of driving and help drivers remain focused.
In the Next-Gen Ford Everest, a new far-side airbag positioned between driver and front passenger provides additional protection in the event of a side impact. The addition of the far-side airbag and driver knee airbag brings the number of airbags up to six, including front driver and passenger and dual side curtain airbags that cover all three rows.
While all three trims of the Next-Gen Ford Everest have cruise control, Adaptive Cruise Control with Stop-and-Go and Lane Centering, which is able to detect lane markings and helps keep the vehicle centered in the lane, comes standard on the Everest Limited.
Other driver assist and safety features available in every trim of the Next-Gen Ford Everest include:
Reverse Parking Aid
Rearview Camera
Auto Headlamps
While the Everest XLT features Front Parking Sensors, the Everest Limited offers a wealth of additional convenience and safety technologies:
An advanced Collision Mitigation System that includes Pre-Collision Assist, Dynamic Brake Support, Forward Collision Warning, Automated Emergency Braking (AEB), Distance Alert, Evasive Steer Assist and Post-Impact Braking. Evasive steer assist is designed to operate at city and highway speeds, using radar and a camera to detect slower-moving and stationary vehicles ahead and provides steering support to enable drivers to maneuver around a vehicle if a collision is imminent
Reverse Brake Assist helps drivers back into parking spots and other tight spaces by providing audible and visual warnings. It can detect a vehicle, cyclist or pedestrian crossing behind the vehicle too. The system can even bring the Everest to a complete stop if the driver doesn't react in time
Blind Spot Information System with Trailer Coverage and Cross-Traffic Assist monitors blind spots around the vehicle and trailer and alerts the driver of any perceived hazards. The system supports trailers up to 2.4 meters wide and 10 meters long
Lane Change Warning and Aid which includes Lane Keeping Alert, Lane Keeping Aid, Road Departure Warning and Driver Alert System
360-Degree Camera
"The Next-Gen Ford Everest is a truly remarkable vehicle – one that is capable, safe, smart and powerful," said Pedro Simões, Marketing Director at Ford Middle East. "But just as important as the vehicle is a remarkable ownership experience."
"Everest customers lead busy lives, juggling work, family time, a social life and recreation. They need their vehicle ownership experience to be easier and more rewarding, so we've created a collection of services that, depending on market, are designed to help do just that."
"We see the moment you buy your vehicle as the beginning of our journey together, not the end," Simões said. "Our commitment is that we're here for you throughout the time you own your vehicle."