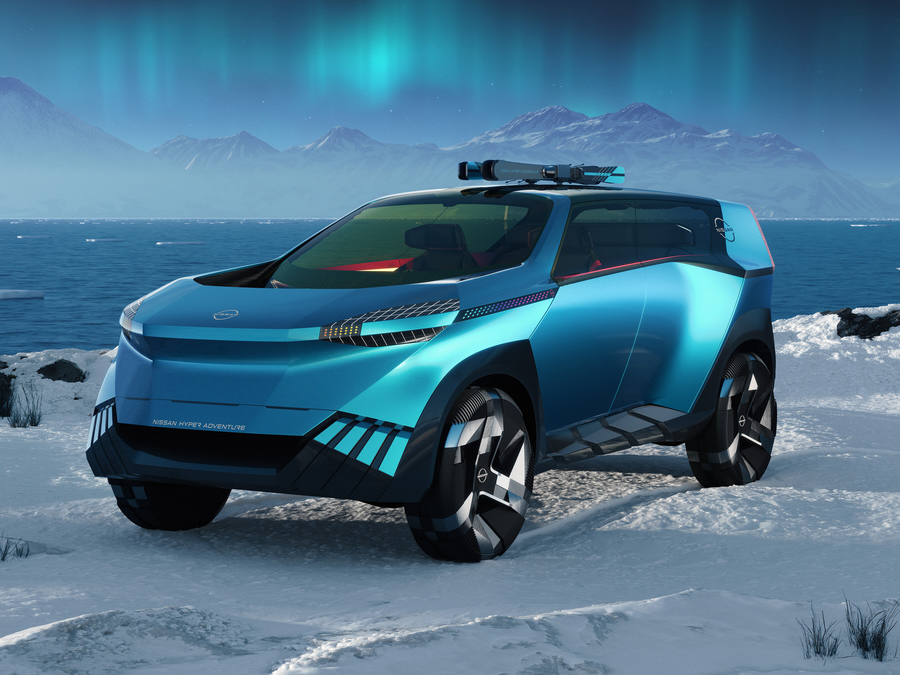 Nissan introduces the "Hyper Adventure" concept, tailored to cater to environmentally conscious outdoor enthusiasts
Read Time:
2 Minute, 23 Second
Nissan Motor Co. Ltd. unveiled the Nissan Hyper Adventure, the second vehicle in its series of advanced EV concepts for the Japan Mobility Show on October 25.
Extended time on the road requires energy, so the Nissan Hyper Adventure concept and its V2X technology are envisioned to sustain electricity needs anytime and anywhere while still being respectful of the environment.
Whether it's a weekend jaunt to the local mountains or a months-long journey to a remote locale, the Nissan Hyper Adventure's primary objective is to accommodate the outdoorsperson's diverse needs. Its large-capacity battery doubles as an energy source, allowing users to power up their gadgets, light up campsites, or even recharge their electric jet skis. Its V2X (vehicle-to-everything) capability can also provide power to homes (V2H) or a local community by contributing surplus power to the grid (V2G).
When traveling over a snowy mountain pass or the muddy trail of a lush rainforest, Nissan's advanced e-4ORCE all-wheel-control system helps ensure that travelers reach their destinations smoothly, safely, and in style.
The exterior features dynamic body panels that express activity, thanks to the distinctive diagonal line on the side of the vehicle that accentuates the spacious cabin within. By redirecting the air flowing through the front spoiler, the car can achieve high aerodynamic performance. The aerodynamics are further enhanced by glass that integrates the roof and side windows and the flush surface of the rear end. The wheels and front and rear bumpers are outfitted with crampons, or snow traction gears, to allow the car to drive through snowy areas with power and ease.
The interior's unique features and cabin space are designed to make driving in all situations easy and comfortable. The instrument panel connects to the bottom of the windshield, serving as a screen with a wide field of view – as if the body of the vehicle is transparent – and seamlessly connects the space inside and outside the car.
The interior also boasts cargo space for outdoor equipment such as tents, skis, or even a kayak. The rear bench seat is distinctive, as it can rotate 180 degrees on an axle and creates a comfortable sitting area that faces out of the vehicle's rear. This feature, that includes automatic extendable and retractable steps, comes in handy when camping, getting ready for a day of skiing, or taking in a scenic view.
The Nissan Hyper Adventure concept is designed to support a wide range of outdoor adventures comfortably, safely and with a good supply of energy. The Nissan Hyper Adventure concept will be displayed digitally at the Japan Mobility Show.
A special music video will stream live on the Nissan YouTube channel until October 25. As each of Nissan's concept cars are revealed leading up to the show they will appear in the video.