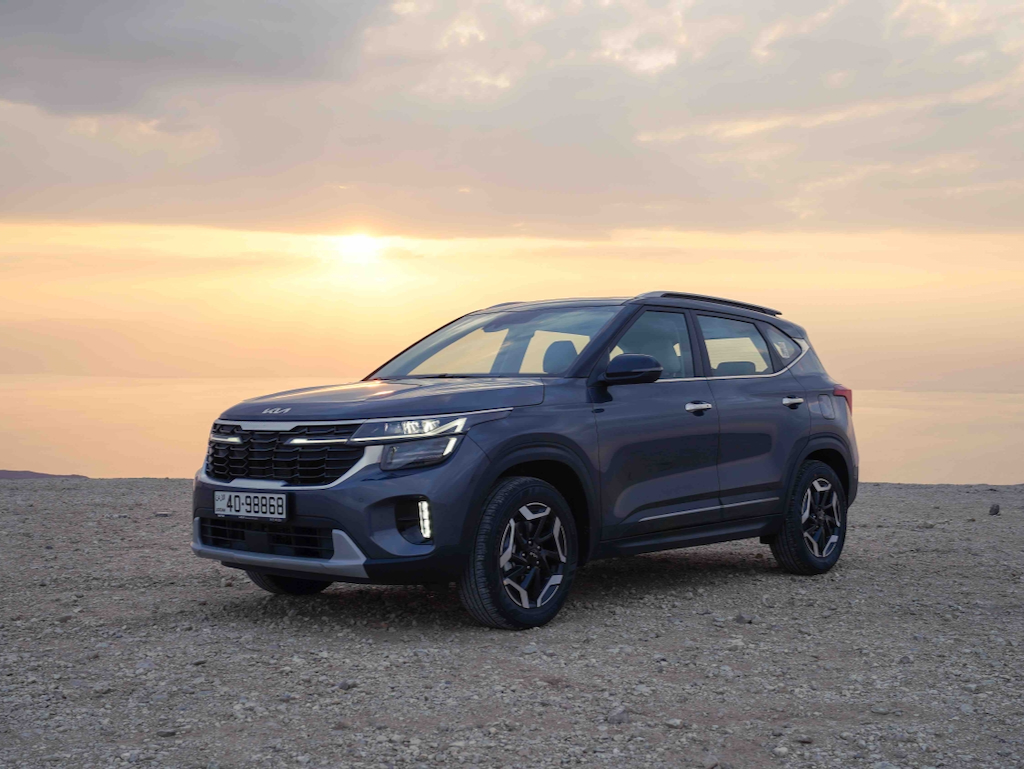 Kia launches upgraded Seltos SUV in Jordan
Read Time:
3 Minute, 26 Second
Kia Middle East and Africa has launched its latest redesigned Kia Seltos in Jordan. A bigger and bolder iteration of its predecessor, the reimagined five-seater compact SUV will be available across all markets in the MENA region from October 2023.
The highly anticipated launch event and test drive left attendees impressed with the new Kia Seltos' unique combination of enhanced performance, bold new design and ergonomic safety features, a premium choice for power and supreme comfort. A reinvention of the highly regarded Seltos, the latest model sports an exciting range of innovative features and benefits that deliver an enhanced driving experience.
Yaser Shabsogh, Vice President, Commercial Operations, Regional HQ, Middle East & Africa, Kia commented: "With the launch of the latest Kia Seltos, our customers in the MENA region can now experience upgraded performance, enhanced comfort, and drive confidently with advanced safety features. Our initial Kia Seltos launch in 2019 gained much popularity for its seamless and convenient driving experience; now, with the reinvented version, each element of the vehicle is bigger, better and bolder for an enjoyable, tech-savvy retreat. At Kia, we're always working to pioneer new vehicles alongside refining our existing high-tech lineup. This allows us to stay committed to our global vision of bringing enthralling innovative experiences beyond our customers' expectations."
Ahmed Soudodi, Vice President, Product & Marketing, Regional HQ, Middle East & Africa, Kia added: "At Kia, our unwavering commitment to innovation and excellence drives us to continually enhance the automotive experience for our valued customers. The new Kia Seltos stands as a testament to this commitment, redefining the SUV landscape in the MENA region. With its robust exterior design exuding strength and a spacious, comfortable interior, the Seltos delivers a superior driving journey. Our dedication to delivering performance, excellence, and innovation will only continue from here, providing our customers with an unparalleled driving experience."
Futuristic and hypermodern design 
The new Kia Seltos is designed to impress with its futuristic and sporty appearance. Its front and rear end headlights feature signature star-maps that add a hypermodern look to the Seltos when lit, as well as a front fog lamp. The new Kia Seltos boasts two brand new exterior hues including Pewter Olive, and Pluton Blue — in addition to the already existing Clear White, Sparkling Silver, Aurora Black Pearl, Vivid Red, Snow White Pearl, and Gravity Gray.
The interior's new panoramic display presents high-tech imaging and design with a 10.25-inch cluster and 10.25-inch audio, video, and navigation – AVN display. The model also boasts a high-tech integrated controller where air conditioning and infotainment features can be easily navigated. The new Kia Seltos makes significant advancements in its design and features compared to its predecessor.
Notably, the previous Seltos had a single tilt sunroof, whereas the new model boasts a panoramic sunroof, providing an expansive view and enhancing the overall driving experience. The panoramic sunroof can slide open or close within a single touch for safety when driving. Passengers can also control their comfort with five-degree recline rear seats.
For a more comfortable driving experience, if the driver prefers a different temperature setting from the passengers, the new Kia Seltos' Dual Auto Climate Control proves invaluable as it seamlessly allows for separate temperature adjustments.
Twice the safety 
The latest Kia Seltos is re-engineered to provide maximum safety through the integration of ADAS (Advanced Driver Assist Systems) to ensure maximum safety on the road including: Forward Collision Avoidance Assist (FCA), Lane Keeping Assist (LKA), Lane Following Assist (LFA), and Smart Cruise Control (SCC). These systems actively monitor the road and provide alerts to the driver to prevent potential collisions, enhancing overall road safety.
In addition, the new Kia Seltos is equipped with an electric parking brake, a significant improvement compared to the previous Seltos' manual brake. The electric brake aids by stopping the car to a stationary position, assisting with emergency braking, as well as assisting with seamless parking.
Kia's new Seltos will be available in the MENA region from October 2023 across Kia showrooms.