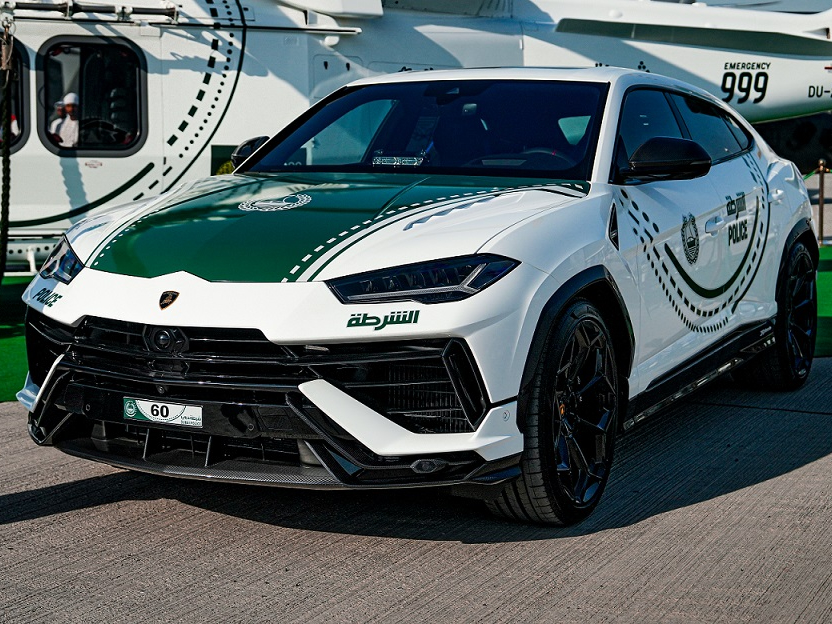 LAMBORGHINI DUBAI COLLABORATES WITH DUBAI POLICE TO ADD URUS PERFORMANTE TO SUPERCAR FLEET
Read Time:
1 Minute, 50 Second
Lamborghini Dubai joined forces with Dubai Police to add the Lamborghini Urus Performante to their fleet of patrol cars. The addition of the high-performance supercar was held at the Dubai Air Show, one of the world's most significant exhibitions in aviation, air transport, defence, and space.
The handover ceremony took place in the presence of His Excellency Major General Ahmed Mohammed bin Thani, Acting Commander-in-Chief of Dubai Police, His Excellency Major General Expert Khalil Ibrahim Al Mansouri, Assistant Commander-in-chief for Criminal Investigation affairs, Major General Jamal Al Jallaf, Director of the General Department of Criminal Investigation, along with a team of representatives from Lamborghini Dubai.
The Lamborghini Urus Performante boasts of a 4.0-liter V8 twin-turbocharged engine with a power of 666 horsepower, which allows the car to go from 0 to 100 km in less than 3.3 seconds. The inclusion of this high-performance supercar into Dubai Police's fleet underscores the emirate's commitment to advanced law enforcement standards.
His Excellency Major General Ahmed Mohammed bin Thani, Acting Commander-in-Chief of Dubai Police, expressed his appreciation for the collaboration with Lamborghini Dubai. His Excellency confirmed that the high-performance supercar was added as part of Dubai Police's efforts to increase the number of officers across the Emirate of Dubai. Additionally, he stated that the new Lamborghini Urus Performante will support Dubai police in their efforts to better serve residents, maintain social safety and security, and provide services in popular tourist destinations.
Mr. Rakan Turki, CEO of Lamborghini Abu Dhabi and Dubai, commented: "We are truly delighted about the addition of the Urus Performante to Dubai Police's supercar fleet. This collaboration exemplifies Lamborghini Dubai and Dubai Police's mutual commitment to excellence and innovation. With its unparalleled performance, we believe the Urus Performante will be a great addition to the Dubai police fleet."
The Urus Performante stands as a representation of strength & versatility. The supercar's addition to the Dubai Police fleet keeps up the city's tradition of leveraging high-performance vehicles to bolster security during significant events. This, therefore reinforces the emirate's commitment to strict law enforcement and security.